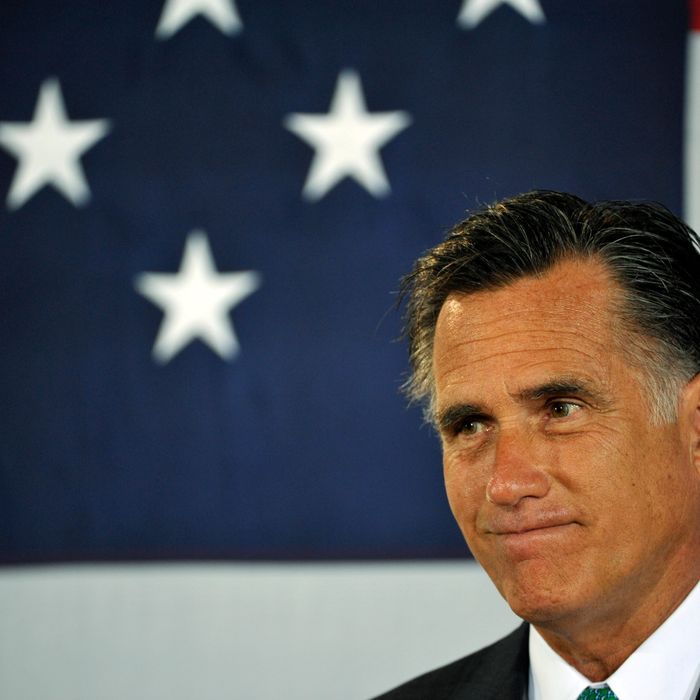 Photo: Rainier Ehrhardt/Getty Images
Mitt Romney's sudden interest in the looming student-loan interest-rate problem has been widely interpreted as part of a new, general-election push for the youth vote. Sure, Romney, who has gone on the record this week as supporting what is basically Obama's solution to the looming student-loan interest-rate problem, framed it as being all about the kids: "Particularly with the number of college graduates that can't find work or can only find work well beneath their skill level, I fully support efforts to extend the low interest rate on student loans," he said.
But his newfound interest on student loans will also appeal to the swing-voting parents of those recent (and not-so-recent) graduates, who are saddled with debt, have no job prospects, and are moving back home in droves. A vote for Romney is a vote for your deadbeat kid moving out of your basement!
No matter how disaffected young voters might be with Obama, they're not going to abandon the Democratic Party for Romney. But student loans and the rotten economy for millenials are part of a much larger crisis, one of great concern to middle-aged baby boomers who are prime Romney targets.
As has been documented plenty, students are not just graduating with loads of debt (bachelor's degree borrowing is up more than 250 percent over the last decade), but many of them either can't get jobs at all, or can't earn enough to pay down that burden. The answer is increasingly to move back home. And it's not just recent grads: According to Pew, 30 percent of young adults 25-34 are now living at home, compared with around 11 percent back in the early eighties when many of those boomerangers were born. This not only drains parental resources, but it's a major drag on the broader economy. Average loan payments have jumped by 83 percent since 2000, according to the Bureau of Labor Statistics, while young-adult income has gone up by just 20 percent. That's not a recipe for long-term growth.
Even parents who aren't dealing with the daily reality of a moping, unemployed adultolescent parked in his or her childhood bedroom, or walking their 18-year-old through the finer points of a Sallie Mae loan agreement, or taking out loans themselves to invest in their kid's educational future, are unlikely to look at the student-loan crisis and say, "Good luck, kiddos! Not our problem!" Because it's becoming increasingly clear that the problem doesn't stop with young people.
Earlier: Boehner Announces Student Loan Interest Vote As Parties Squabble Over How to Pay the Bill