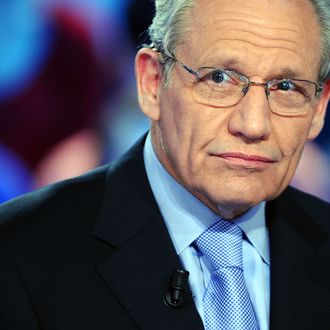 Bob Woodward.
Photo: Miguel Medina/AFP/Getty Images
This week's New York features an excerpt adapted from author Jeff Himmelman's forthcoming biography of legendary Washington Post editor Ben Bradlee. The excerpt reveals that Himmelman, while researching the book, discovered an unpublished 1990 interview in which Bradlee expressed nagging doubts about some minor details in Bob Woodward's storied Watergate investigation. According to a transcript of that interview, Bradlee told Barbara Feinman:
>
Did that potted [plant] incident ever happen? … and meeting in some garage. One meeting in the garage? Fifty meetings in the garage? I don't know how many meetings in the garage … There's a residual fear in my soul that that isn't quite straight.
According to Himmelman, Woodward saw Bradlee's doubts as a threat to his legacy, and tried, unsuccessfully, to convince Himmelman to keep them out of the book.
Woodward's defense continued last night after the excerpt went online, when he told Politico that the article failed to include a more recent interview Himmelman did with Bradlee that was more supportive of Woodward.
"There's a transcript of an interview that Himmelman did with Bradlee 18 months ago in which Ben undercuts the [New York magazine] piece. It's amazing that it's not in Jeff's piece," Woodward said. "It's almost like the way Nixon's tapings did him in, Jeff's own interview with Bradlee does him in." …

According to Woodward's reading of the transcript, Bradlee told Himmelman: "If you would ask me, do I think that [Woodward] embellished, I would say no."

"He did nothing to play down the drama of all of this," Bradlee continues, according to Woodward. "You know I'm sure they had a signal, but if it was roses or something else I don't know. But they had the means of communicating with each other. But because I never knew Felt, I never knew if there was anything from Bob that didn't ring true. And I don't think there was."
As Himmelman told the Washington Post last night, the exchange in question, while not in the magazine excerpt, is included in the book. The Post also relayed a message from Bradlee: "I love Bob, and I love Jeff, and I trust them both, and let's move on."
Update: Himmelman chimes in on the importance of the more recent memo:
"I do not think what Ben said in 2010 negates his doubts in 1990," Himmelman told POLITICO.

"The interview that Bob cited to you from 2010 — as an attempt to claim that I didn't include all available evidence [in the New York magazine piece] — is cited in full in "Yours In Truth," Himmelman added in an email. "The piece that ran in New York Magazine was an excerpt from a 473-page book. I stand fully behind my reporting."