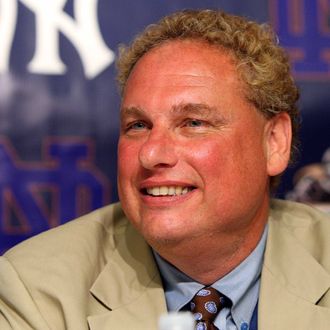 New York Yankees President Randy Levine speaks during a press conference announcing that Yankee Stadium will play host to the 2010 Notre Dame v Army college football game on July 19, 2009 at Yankee Stadium in the Bronx borough of New York City. The game is to be played on November 20, 2010.
Photo: Jim McIsaac/Getty Images
Traitors to your people, both of you. Isn't Scott Brown supposed to return that money, like politicians usually do when a donor turns out to be a Ponzi schemer or a warlord?