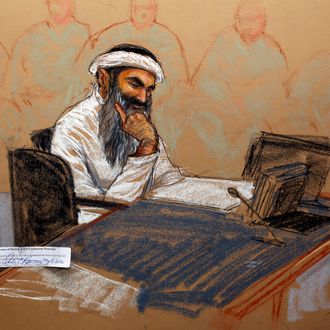 A courtroom drawing of Khalid Sheikh Mohammed.
The long-awaited military tribunal of self-identified September 11 mastermind Khalid Sheikh Mohammed and four other men, who are facing charges of murdering 2,976 people, is off to a rocky start. Their arraignment this morning in Guantanamo Bay was described as chaotic and circuslike, with the group declining to acknowledge the questions posed by the judge, Army Colonel James L. Pohl. (At one point, he simply asked, "Why is this so hard?") 
When the defendants declined to wear their headsets so they could listen to translations of the judge's questions, Pohl ordered a translator to repeat them out loud in Arabic. And he plowed ahead, asking each of the defendants detailed questions about their knowledge of the lawyers who had been appointed to represent them and whether they accepted them. None of the defendants responded and refused to even look at the judge.

During a break, the defendants could be seen leaning back in their seats, laughing, smiling and chatting among themselves — apparently pleased with their ability to frustrate the judge. 
One defendant, Walid bin Attash, arrived in the courtroom strapped in a chair, apparently having refused to attend the trial. (He was later freed after promising to behave.) Another, Ramzi bin al-Shibh, interrupted the proceedings to kneel on the floor and pray, and later shouted that Muammar Qaddafi was being held at Guantanamo. 
Meanwhile, the civilian and military lawyers tasked with defending the men sought to prove that a fair trial was not possible, given the allegations of torture in CIA prisons and at Guantanamo, where they've been held since 2006. David Nevin, who is representing Mohammed, said that what his client "has been through with unknown, shadowy people it will affect his ability to proceed." And Cheryl Borman, who is representing Attash and wore a hijab to court, objected to the clothing worn by the female members of the prosecution team, who wore military skirts: "There are issues of cultural sensitivity here. I am suggesting the prosecution team make decisions of appropriate dress of their female colleagues so that our clients are not forced to look (at them) for fear of committing a sin under their faith."
The proceedings, which marked the first time the men have been seen in public in around three years, were observed via closed-circuit television by  survivors and family members of September 11 victims, one of whom called the hearing "a theater for the defendants." Another, however, told the Times, "It was good seeing those guys brought to justice."