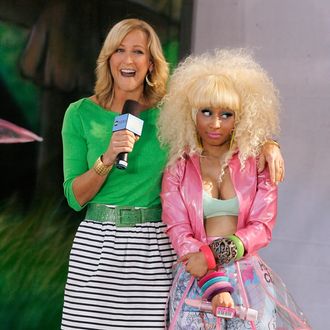 Nicki Minaj doubts the world needs another Kathie Lee and Hoda.
If your grandma keeps loudly wondering why they had to cancel One Life to Live, we finally have an answer:  It's all part of Good Morning America's never-ending battle with the Today show. ABC confirmed today that it's filling the 2 p.m. slot once occupied by the likes of Blair and Starr (and then Tim Gunn's short-lived confection The Revolution) with a Good Morning America spinoff.
In the last two months, ABC finally ended NBC's morning TV ratings domination, and the network has an ingenious plan for maintaining its momentum: Copy whatever NBC's been doing right. Just five years after the Today show was extended to four hours, ABC is launching Good Afternoon America.
The morning show's third (non-consecutive) hour will be hosted by GMA alums Lara Spencer and Josh Elliott. ABC is giving the show a nine-week trial, from July 9 to September 7. After that, the network will decide if it's worthy to serve as the lead-in for Katie Couric's syndicated talk show, which debuts on September 10.

As for the format, it sounds like Good Afternoon will provide more of the usual fluff preferred by the motley crew of daytime TV viewers. According to the press release, the show will feature "celebrity appearances, musical performance, pop culture news and original entertainment, lifestyle, health, workplace and consumer reporting," as well as "special appearances" by GMA regulars Sam Champion, Robin Roberts, and George Stephanopoulos. Stephanopoulos didn't know how right he was when he told New York recently that anchoring a perky morning show has forced him to "stretch in some ways, sometimes awkwardly, sometimes not." It's a long road from the West Wing to making Spanx-related jokes while sipping an early afternoon glass of pinot grigio.