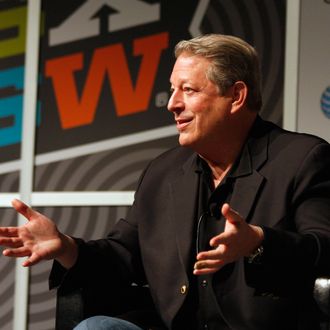 Al Gore doesn't care what you think of his forbidden love.
Photo: Heather Kennedy/WireImage
We would have expected a story like this to come from an outlet like the Weekly World News, but today the highly credible Washington Post is reporting that Al Gore is now dating a horsewoman, which we can only assume means that she is a half-horse, half-woman — like a female centaur, also known as a Kentauride. The scandalous interspecies relationship may shock and appall Washington society, but in a way, it also makes perfect sense for the former vice-president, whose love of nature apparently knows even fewer bounds than previously realized. The Post reports that the horsewoman, who goes by the human name Liz Keadle, is a Californian and a major donor to the Democratic Party and environmental causes. How a horsewoman accumulated so much wealth is a mystery … unless, wait — oh, a horsewoman. See, they should have made that clear in the article.