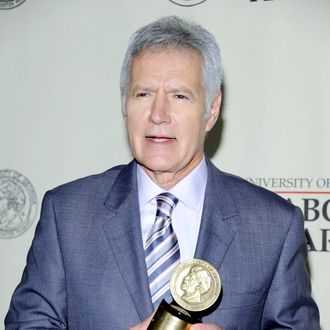 The day is Trebek's.
Photo: CLINT SPAULDING/Patrick McMullan
"You wouldn't have known that if you didn't have that card in front of you!" So went the accusation famously lobbed by Sean Connery (Darrell Hammond) against Alex Trebek (Will Ferrell) in one of Saturday Night Live's classic Jeopardy! skits. It was, we suspect, a thought that has occurred to many Jeopardy! fans over the years. How smart is Trebek, really, without those cards?
The best way to find out would be for Trebek to trade his hosting podium for a contestant's lectern, at least for just one episode. But this afternoon at the 71st Annual George Foster Peabody Awards, which took place in the Waldorf Astoria, Trebek shot down the suggestion out of hand. "No," he told us flatly when we asked him if he might ever pick up the buzzer himself.
It's not that Trebek thinks he lacks the knowledge to compete. But Jeopardy! is a young man's game. "I would probably do very well against seniors, but not against a good 30-year-old. They would clean my clock," he told us. "Because I'm older, I'm slower."
But what about that vast reserve of trivia he must have built up over nearly three decades as Jeopardy!'s omniscient host? "I know more, but I can't recall it as quickly," he says. "We slow down as we get older. I've got to get it in time to beat them, to ring it and come up with the response, and I'm slower." In other words, Trebek is pretty sure he'd rue the day.