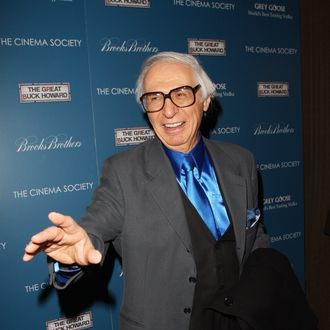 The Amazing Kreskin sees low monetization potential in your future.
Photo: Stephen Lovekin/Getty Images
Since Facebook's ruinous IPO, the in-boxes of tech reporters have been flooded by PR firms pitching hundreds of "industry experts," all offering to assess the company's long-term potential in exchange for a little ink.
But only one pitch — from the legendary mentalist the Amazing Kreskin — promised a no-fail look into Facebook's actual future. So we called him.
"I'm not a financial expert by any means," Kreskin said as a caveat to our call. "My work really deals with how people are thinking, and tuning in on your thoughts."
Nevertheless, the Hollywood mentalist (don't call him a psychic) agreed to take our Facebook-related questions. He said he had gotten interested in Facebook recently, after hearing whispers at parties about the company's IPO.
"As I studied more and more and listened, it was almost like a cartoon character that made a hit in the movies, and suddenly there was a cast over the character."
Specifically, Kreskin honed in on Facebook co-founder Eduardo Saverin's move to Singapore, which brought howls of tax evasion motives. 
As a result of Saverin's karma-unfriendly move ("a crappy action!" Kreskin howled), Facebook's IPO had "a little bit of a shadow on it that's going to be a corrosive factor."
Kreskin called Mark Zuckerberg a young man of "staggering success," and predicted that Facebook's stock price, now down to $27 from an initial price of $38, would recover in the coming days. But he urged investors to think long-term.
"It'll level off in ten days," Kreskin said of the stock price, "but in six years Facebook will not exist the way it does today. The service it's giving today, we won't need it then. Everyone will have their own Facebook."
(Luckily for Zuck, Kreskin thinks his wife Priscilla Chan will be just fine. "She'll live happily ever after, even if it's without him.")

So how to save Facebook from its fate? Kreskin, who has in the past predicted Super Bowl winners and foresaw Barack Obama's 2008 presidential win, suggested Zuckerberg would need to bring in outsiders.
"Something is missing in that framework of his organization — he's going to need two more people he doesn't even know right now," he said. When we pressed for names, the mentalist would add only that one of the outsiders would be "totally out of the investment scene."
Facebook's much-maligned ad platform, Kreskin said, was never going to bring in the kind of revenue the company expects.
"If Zuckerberg thinks he's going to be successful with the ads, he should go do a stage illusion show in Vegas."
Seriously, somebody get this guy a job on Wall Street.