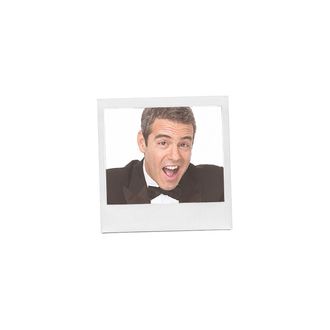 Name: Andy Cohen
Age: 43
Neighborhood: West Village
Occupation: TV Executive and Host. He'll be appearing at the 92Y Tribeca in support of his new book Most Talkative: Stories from the Front Lines of Pop Culture (the main stage is sold out but tickets — which include a copy of the book — are still being sold for the simulcast in the screening room).

Who's your favorite New Yorker, living or dead, real or fictional?
Lucy Ricardo.
What's the best meal you've eaten in New York?
Breakfast at Florent after a late night: scrambled eggs with onions, bagel, and fries. I'm a simple guy.  
In one sentence, what do you actually do all day in your job?
I talk, watch TV, spout opinions, schmooze, negotiate, talk some more, play games, and have a little cocktail.  
What was your first job in New York ?
Desk Assistant at CBS News, in 1990. I spent ten years there, mainly at the Morning News but also a year and a half at 48 Hours. I had a front-row seat for every news and pop culture event of the nineties, an incredible experience that has informed much of what I do at Bravo, both in front of and behind the camera. It also provided me with a ton of funny stories for my book.  
What's the last thing you saw on Broadway?
Evita. Ben Brantley was too harsh in his review. I liked it!  
Do you give money to panhandlers?
Yes. And if I didn't, would I admit it to New York Magazine?  
What's your drink? 
Fresquila: Fresca and tequila.  
How often do you prepare your own meals?
Um. Maybe never.  
What's your favorite medication?
Oh the list is too long! Ambien.  
What's hanging above your sofa?
A huge mirror that's essentially a flattened-out disco ball. It's super trippy and unique. I got it in L.A. at the Pacific Design Center while shooting season one of Top Design.  
How much is too much to spend on a haircut?
For a guy? Anything over a hundred bucks is too much.  
When's bedtime?
Around 2:30 a.m.  
Which do you prefer, the old Times Square or the new Times Square?
Old! Call me old-fashioned but I am somewhat romantic about a New York City filled with filth and hookers.  
What do you think of Donald Trump?
I only think of the hair. I interviewed him once at NATPE in Las Vegas and liked the fact that he would answer anything. He's since hired me to host a couple pageants.  
What do you hate most about living in New York?  
Sometimes I get frustrated in traffic. I typically start going deep with my cab driver and Twitter feed — simultaneously — to take my mind off the gridlock. I enjoy live-tweeting my cab rides.  
Who is your mortal enemy?
The Joker.  
When's the last time you drove a car?
Last weekend. I have a car and drove to my college roommate's house in Harrison for lunch.  
How has the Wall Street crash affected you? 
I am fortunate to have a good job, and so I lost some money but haven't been unduly harmed.  
Times, Post, or Daily News?
I read the Times and Post, but I have nothing against the Daily News. I also fish around the Internet for entertainment news but find most of what I read to be untrue or partially true.  
Where do you go to be alone?
Sag Harbor.  
What makes someone a New Yorker?
You either get it or you don't.