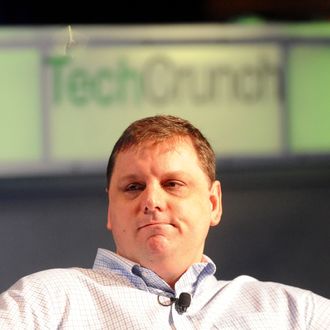 Arrington.
Photo: Bloomberg/2010 Bloomberg
Arianna Huffington no longer has much to do with AOL's editorial properties outside of the Huffington Post, but it's no surprise that she wants to focus on her own brand: An earnings report today indicates that traffic is down across the company, with online display ads dipping slightly too. Investors have already been complaining that the content business is not a profitable one, and the company may be ready to make some moves in that area by selling off their tech blogs. AOL wants between $70 and $100 million for TechCrunch and Engadget, former TechCrunch staffer Sarah Lacy reports at PandoDaily. Anyone paying attention knows neither site has ever really fit into the AOL ecosystem.
TechCrunch founder Michael Arrington clashed with Huffington over ethics last year, and was eventually booted despite promises of autonomy after selling to AOL. A staff exodus followed (including Lacy) similar to the one experienced at Engadget after their earlier acquisition. Now both could be offered as an AOL Tech package to the highest bidder, and if the asking price gets met, the struggling Internet company could even make a profit.
For now, the sites are beefing up, possibly in preparation for the sale, with one source telling Lacy, "We're just having fun and spending AOL's money while we can." Just don't expect Arrington to swoop back in and save the day by buying his old site back — he told Lacy, "I am not in the least bit interested."
As for Huffington, the fewer brand-name sites AOL hangs on to, the more crucial she and her blog behemoth become, if they still hope to be a media company. Power could be wielded accordingly.
Update: On an earnings call today, AOL CEO Tim Armstrong called Lacy's report "100 percent untrue."