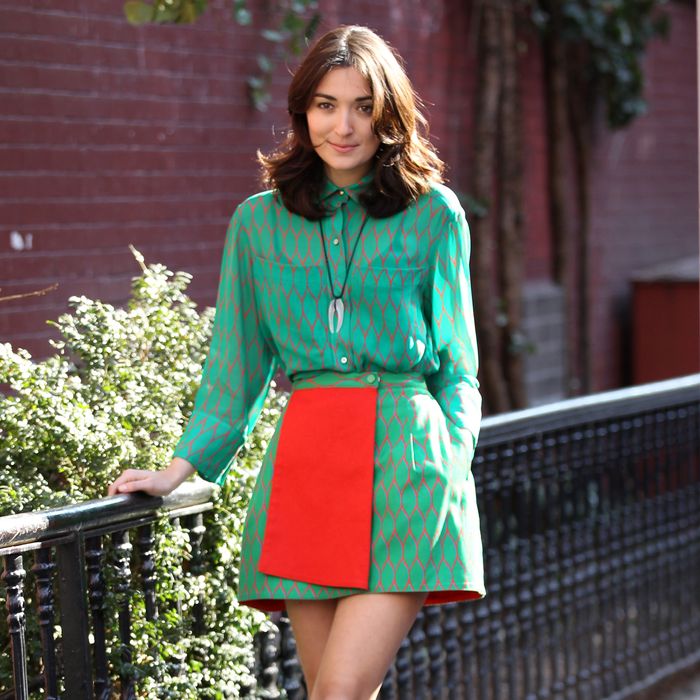 Byrne.
Photo: Christopher Peterson/Getty Images
Malu Byrne is a recent college graduate with artistic ambitions. Like so many such souls before her, the glass sculptor/jewelry-maker decided to move to New York City, the Center of It All. But, as she explained in a Times "Sunday Review" op-ed this weekend, the city seems more closed than ever to people like her, people who need to "sustain [their] creative spirit."  To add insult to injury, Byrne also happens to be one of those kids forced to boomerang back home after college. "Though my income barely supports my need for food, art materials and rented time in a studio space, I'm one of the lucky ones, " she writes. "I live rent-free, with my dad, David Byrne, at least for the time being."
But being the offspring of one of the city's most revered creative spirits just ain't what it used to be, it seems. Byrne longingly interviews fellow young artists who've decamped to burgeoning artists' colonies like Montauk and Hudson within spitting distance of the city, but without the pressure; she, too, wants to be "a practicing bucolic artist."
Perhaps this is a trend in the making: Twenty years down the line, celebrity children will all be moving to Beacon, not the West Village. (We can just see Suri Cruise as a woodworker!) Or maybe it's just a little post-college rebellion after too long in close quarters with the parental unit: The same section of the paper also featured an op-ed from her dad, extolling the virtues of New York as a biking city. "I just turned 60 and have no plans to retire to the suburbs," he writes, leaving his 22-year-old daughter with little choice but to do so herself.