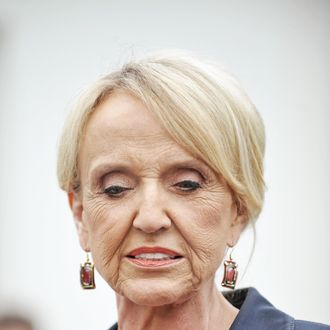 Brewer.
Photo: MANDEL NGAN/2010 AFP
Arizona governor Jan Brewer signed a Republican-backed measure on Friday called the Whole Woman's Health Funding Priority Act, which prevents Planned Parenthood or any entity offering abortions from receiving state funding. "This is a common-sense law that tightens existing state regulations and closes loopholes in order to ensure that taxpayer dollars are not used to fund abortions, whether directly or indirectly," Brewer said in a statement. "By signing this measure into law, I stand with the majority of Americans who oppose the use of taxpayer funds for abortion."

Per the Priority Act, it doesn't matter what other services a clinic provides. So long as abortion is one of them, the state and every local government is banned from using public money to contract with the organization.
"We are most concerned about the women and men who could be forced to go without health care as a result of this bill," Bryan Howard, Planned Parenthood Arizona's president and CEO, said in a statement. "We remain committed to providing Arizona communities with the professional, nonjudgmental and confidential health care they have relied on for 78 years." The Arizona Republic notes that, according to Planned Parenthood of Arizona, fewer than one in ten women seek abortion services from the group.

Brewer signed the ironically titled bill while speaking at anti-abortion group, The Susan B. Anthony List, which called the act a "major victory" in its fight to bar funding of abortion providers. "Abortion-centered businesses like Planned Parenthood do not need or deserve taxpayer dollars," said Marilyn Musgrave, the group's vice-president of government affairs.

"I think it's also instructive that the place that the governor would sign this is at a political rally — it might be an elegant political rally, but it is a 100 percent political event, and that speaks volumes about what this legislation was about from day one," said Bryan Howard."But while the impetus for the governor is political, and for the sponsors it's political, the impact is on health care for poor Arizonans, and that is a terrible, terrible trade-off."
Six other states have similar measures but in three of them — Indiana, North Carolina, and Kansas — opponents have waged a legal challenge. This January, private fund-raising juggernaut Susan G. Komen foundation faced a major backlash and public relations crisis when it announced that it would stop providing funding to Planned Parenthood. In less than a week, the organization reversed course. Planned Parenthood of Arizona is reportedly considering a legal challenge.