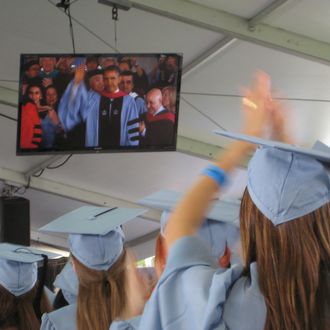 Students stand and cheer for President Obama.
Like every other thing presidential candidates do, commencement addresses always have a highly calculated, political motive behind them. On Saturday, Mitt Romney gave a speech at the Falwell-founded Liberty University in an effort to reassure evangelicals of his strong, Christian moral fiber. And today, President Obama delivered the commencement address at the all-women Barnard College — not, to the consternation of its student body, Columbia, Obama's own alma mater — because it afforded him yet another opportunity to make his case as the Candidate O' Women.
Obama's speech hit all the expected notes: He name-dropped Lilly Ledbetter, Michelle Obama, Hillary Clinton, and just about every other woman in his administration. He proclaimed that women should earn equal pay and control their own health. He credited his perseverance to all the strong women "who shaped my life." He urged Barnardians to not only fight for a seat at the table, but to "fight for a seat at the head of the table." Congress, he said, "would get a lot more done" if it included more women. And so on.
The air was chilly and the clouds threatened rain by the time Obama spoke, but the mood was exuberant. Obama walked onto the dais to chants of "Yes We Can!" and left it to chants of "O-BA-MA!" From inside the press area — which was nestled right in the very midst of nearly 600 ecstatic 21- and 22-year-olds — the hoots and cheers for Obama were, at times, deafening. When Obama mentioned that, back when he graduated in 1983, Michael Jackson's moonwalk was all the rage, one giddy student shouted out, "Do it!" ("No moonwalking today," Obama replied, to everyone's eternal disappointment.)
And yet, as incredible an honor as it was for these students to have the president of the freaking United States speaking at their commencement, and as delirious with excitement as that made everyone (Barnard's president, for one, said she "couldn't sleep last night"), we wondered if there were another person they'd prefer — specifically, Hillary Clinton: Groundbreaking female politician, role model for women everywhere, and a Barnard commencement speaker three years ago. If they had the choice, would Barnard's class of 2012 have preferred to hear from Clinton over Obama?
"I don't know, I don't know," said a student named Hallie, before eventually deciding she was "glad that Obama spoke."
Elisa agreed, albeit with a similar level of enthusiasm. "I guess Obama," she said. "I think it's more relevant for today to hear the president speak."
Others were unable to choose a side in this important hypothetical debate. "I could not pick," Liza told us.
"You can't choose between one and the other," concurred Danielle, one of the ceremony's speakers.
But one student wasn't ashamed to bounce the president. "Hillary Clinton," Laurie told us without hesitation. "I voted for her in the primary."
There's always graduate school, Laurie. Know hope.