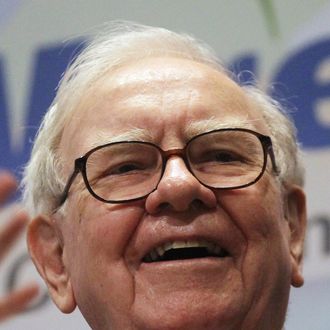 The man himself.
Photo: Mario Tama/2011 Getty Images
By 5 p.m. Friday, the parking lot at Regency Mall, home of Borsheim's jewelry store and site of the 2012 Berkshire Hathaway Annual Meeting kick-off cocktail reception, was already full, as were the lots of nearly every adjacent business. (The nearby Whole Foods had sent out a bag boy with a clipboard to shoo people away.) Outside, a line of at least 50 people stood waiting for barbecue.
Apparently, the annual meeting used to be a relatively subdued affair — an opportunity for businessmen and active investors to question Berkshire Hathaway chairmen Warren Buffett and Charlie Munger about their vision for the fund. Friday night, it was Mardi Gras – the result of the quasi-religious fervor the Oracle of Omaha inspires, and an open bar. 
The first person in line was LaDonna Johnson, who'd showed up extra early to nab that spot. "I know better than to arrive late," she said. "I've had stock since I was yea high," gesturing toward her knees. As it turns out, her father had owned a feed store with Buffett's father, Howard, and the families used to get together. LaDonna even put out yard signs for Howard's congressional campaign. "They were very nice. They were Republicans."
LaDonna does not agree with Buffett's politics, and especially doesn't understand why he's recently aligned himself with President Obama. I asked about the Buffett Rule, first proposed by Warren himself in a New York Times op-ed last August and taken up by the president as a major element of his tax-reform platform, which would require citizens at the highest income levels to pay a minimum of 30 percent of their yearly take in taxes, be it capital gains or ordinary income or anything else. LaDonna didn't care much, since she falls well below the Buffett Rule threshold, but her friend Ruthie Gilliland was very opposed. "I don't go along with that line of thinking at all, the way he says 'Hit the rich harder, hit the rich harder.'" She continued, "These kids that are out there demonstrating … give me a break. Go home. Get a job. Start there."
Ken and Nancy Vioski of Kansasville, Wisconsin, a farming community outside of Racine, had come down to the meeting for the third year in a row. They also don't agree with Obama, but when it comes to Buffett, they're rapt; before I talked to them, they'd stopped at Borsheim's and picked up a Magic 8 Ball with Warren and Charlie's faces on them. "He's the richest man in the world, and obviously he's the best at what he does," Ken said. "So if you want to be good at what you do, you find the best at what they do and listen to them. Listening to his shareholder meeting in the morning is like taking a college course in economics." Do they take notes? "Mentally," said Nancy.
Attendees' familiarity with and understanding of the Buffett Rule varied. (Intel occasionally had to explain the principle before people were able to weigh in.) Ray Ullrich, who grew up outside of Omaha and now lives in Atlanta, thought that Buffett and Obama wanted an across-the-board increase in the capital gains tax, from 15 percent to 30 percent. "I think it's bullshit," he said. His daughter Missy chimed in, "But then again, you're also middle class. You're not freaking Buffett. He's also the most frugal old person you will ever meet."
Ray is an electrical technician at a packing plant, but he and his wife live on her teacher's salary and put his into a retirement fund. His concern is mainly for what will happen to that money when he finally retires at 62, "hell or high water," and goes to collect it. He was the only person Intel spoke to over the weekend who said the Buffett Rule changed his opinion of Warren: "I know he's a billionaire … he says he wants to pay more taxes. Fine, you want to pay more taxes? Send them a check! But don't put this on me. The difference in this is — and you can laugh at this if you want —but they want to tax the rich, right? Guess what: I'm about to become rich." Ah, the American dream.
By around 6:30, the twentysomethings were starting to arrive, dressed up and looking like they might be going to prom. Protestors had started walking Regency Parkway with signs saying "Warren Buffett agrees with the 99 percent" as attendees double-fisted Bud Lights or perched on the curb of the parking lot nibbling meatballs off toothpicks. Inside, Jerry Hopkins sat at a table with a non-shareholder friend, both them baby-sitting drinks for people who'd gone out to the non-restricted parking lot to smoke. Hopkins used to be a Republican, but he's a Democrat now. When asked about the Buffett Rule, he cited the now famous case of Warren's secretary: "He's in the 15 percent bracket because he earns so damn much money. But his secretary, she's in the 25 percent bracket. Why should she pay a greater share of her money than he pays of his?" "Because it's capital gains and hers is ordinary income," said his friend. "Oh, his isn't capital gains," Jerry said (incorrectly.) "Regardless, you can throw all the terms out that you want, but it's just BS. We try to be honest."