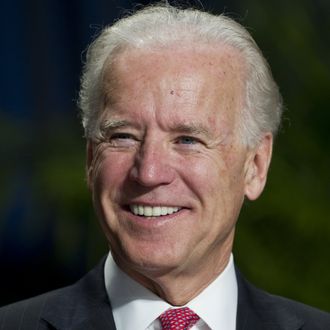 Evolved? (SAUL LOEB/AFP/Getty Images)
Photo: SAUL LOEB/2012 AFP
Vice-President Joe Biden's tendency to talk more than he is supposed to was a force for good this morning when, during an appearance on Meet the Press, he indicated strong support for gay marriage. While President Obama's lengthy "evolution" on the issue is supposedly ongoing, Biden is apparently "absolutely comfortable" with the idea. (As Buzzfeed's Andrew Kaczynski pointed out, Biden called gay marriage "inevitable" back in 2010.)
"I am vice president of the United States of America," Biden replied. "The president sets the policy. I am absolutely comfortable with the fact that men marrying men, women marrying women, and heterosexual men and women marrying another are entitled to the same exact rights, all the civil rights, all the civil liberties. And quite frankly, I don't see much of a distinction — beyond that."
In true Biden fashion, he ended up backtracking a bit later. When asked if he would like to see the president announce his support for gay marriage if he wins a second term, Biden said only that Obama "continues to fight" discrimination against homosexuals, citing the repeal of Don't Ask Don't Tell and other gay-friendly executive decisions. He then tried to shift the subject to Will and Grace. 
I take a look at when things really begin to change, is when the social culture changes. I think "Will and Grace" probably did more to educate the American public than almost anything anybody's ever done so far. And I think — people fear that which is different. Now they're beginning to understand.
The White House was disappointingly quick to send out various "clarifications" of Biden's statements, which stopped just short of fully endorsing gay marriage. David Axelrod tweeted that Biden's view that "all married couples should have exactly the same legal rights" is "precisely POTUS's position," which is a basically meaningless statement because Obama only officially supports civil unions, and a Biden spokesman told NBC's Chuck Todd that the vice-president was speaking about his personal thoughts, not those of the administration. Later, the office sent out a more extensive denial of the notion that Biden had, in fact, fully evolved: 
The vice president was saying what the president has said previously – that committed and loving same-sex couples deserve the same rights and protections enjoyed by all Americans, and that we oppose any effort to rollback those rights. That's why we stopped defending the constitutionality of section 3 of the Defense of Marriage Act in legal challenges and support legislation to repeal it. Beyond that, the Vice President was expressing that he too is evolving on the issue, after meeting so many committed couples and families in this country.
Biden's original statements — and the administration's damage control-ish reaction to them — have once again drawn attention to Obama's frustrating reluctance to say what basically everyone already knows: that he supports marriage equality. However, some observers have found the episode encouraging.
"If there was ever any doubt where Obama's evolution would end, Joe Biden's candid remarks this morning ended it. He's where most Americans are on this. They both are," said Richard Socarides, a former Clinton aide and longtime gay rights advocate. "And you don't go on Meet the Press without rehearsing these answers either, so I think they are sending a message. And it's a positive one."
Of course, it would be much better to do this in a more upfront way, as opposed to attempting to transmit coded messages via Meet the Press, but it's probably a step in the right direction. And, in an election year, it might be the most Obama is willing to do.