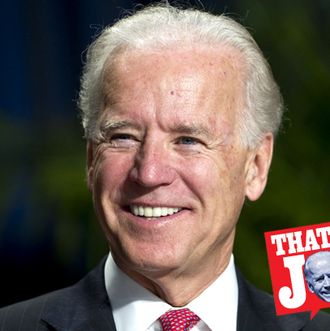 Photo: SAUL LOEB/AFP/Getty Images
Amtrak Joe Biden is the kind of guy who seems to reallllly like a good ethnic joke. He also knows — perhaps through trial and error? — that's it's a bit uncomfortable, if not flat-out racist, to make them about an ethnicity or religion other than one's own. Perhaps that's why he went to a rabbinical conference today, and made not one, but two jokes about his Catholicism. Hey! You guys have weird religion stuff? Me too! is the basic message.
A variation on that can be the only explanation for why he somehow managed to bring up his Irish heritage at Cinco de Mayo. "In Irish families, there's occasionally a little embellishment by your relatives,"  he said. "Your great-grandfather was 9 feet, 6 inches tall." Hey! You guys have funny immigrant stuff! Me too! is what he's saying there. Maybe, just maybe, it wasn't the best way to honor the contributions of Mexican-Americans? Nor the best use of that joke! Come over to the Malone house, and all 127 of us will love it, Joe, if we can manage to pay attention to it between all the Guinness-drinking and rosary-saying and horse-racing and spontaneous fisticuffs.