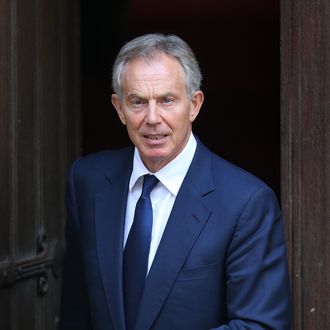 Tony Blair leaving the Royal Courts of Justice today. (Peter Macdiarmid/Getty Images)
Photo: Peter Macdiarmid/2012 Getty Images
Former British Prime Minister Tony Blair appeared before the ongoing phone-hacking inquiry to respond to criticisms that he was too cozy with media barons such as Rupert Murdoch, whose newspapers have been accused of tapping phones and bribing police. According to Reuters, Blair said over and over again that the power of the British press "is indisputable," so he had no choice but to manage them as best he could.
With any of these big media groups, you fall out with them and you watch out, because it is literally relentless and unremitting once that happens… If [for instance] you fall out with the controlling element of the Daily Mail, you are then going to be subject to a huge and sustained attack.
At one point, Blair had to face down a habitual heckler, who burst in and screamed, "this man should be arrested for war crimes!" His primary (unsubstantiated) complaint: that Blair accepted a payoff from JPMorgan for green-lighting the Iraq War.
The Leveson Inquiry, as it is known, also probed Blair's infamously chummy relationship with Rupert Murdoch — Blair is the godfather of Murdoch's daughter Grace, and acknowledged giving him back-door access to No. 10 Downing Street. At the heart of it is a trip Blair took in 1995, in the run-up to his electoral victory, to Australia to speak before a group of Murdoch's newspaper editors. Until that point, Murdoch and his papers (particularly The Sun) had leaned Conservative. But Blair received a standing ovation from the gathering as well as Murdoch's support.
Still, it wasn't a match made in heaven. Murdoch is quoted joking to Blair that, "If our flirtation is ever consummated Tony then I suspect we will end up making love like porcupines, very, very carefully." Porcupine sex is, we are meant to understand, quite a prickly affair.
In defending himself, Blair noted that Murdoch, more than any of his editors, runs the show, and that when "the country's most powerful newspaper proprietor, whose publications have hitherto been rancorous in their opposition to the Labour Party, invites us into the lion's den, you go, don't you?"
On his way home from the inquiry, Blair's car was struck by an egg.