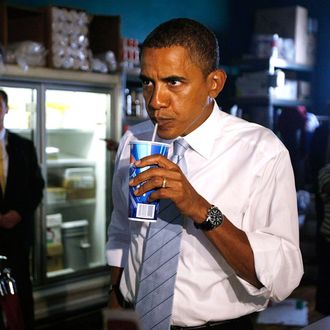 Sorry, Mr. President. Executive privilege doesn't cover this one.
Photo: Joe Raedle/2008 Getty Images
Anyone who thought the mayor's crusade against sugary beverages would end at subjecting New Yorkers to Photoshopped amputation ads was sorely mistaken. On Wednesday, Bloomberg revealed plans to ban the sale of cups or bottles of sweetened drinks larger than sixteen ounces at restaurants, movie theaters, street carts, and sports venues. The ban, which would take effect in March, excludes low-calorie drinks like diet soda, fruit juice, and dairy-based drinks. Bodegas and convenience stores would be exempt, unless they are designated as "food service establishments" that get a letter grade from the Department of Health.
Mayor Bloomberg's heavy-handed efforts to promote healthy living are nothing new. He's already taken on many of life's most enjoyable vices, including smoking, salt, alcohol, and trans-fats. The mayor has also made unsuccessful attempts to reduce the consumption of sugary beverages by pushing a soda tax and restricting the use of food stamps to buy soft drinks. The measures were killed by Albany legislators and federal regulators, but now Bloomberg is trying a new approach in his war on sweetened beverages. Per the New York Times:
Mr. Bloomberg's proposal requires the approval of the Board of Health, a step that is considered likely because the members are all appointed by him, and the board's chairman is the city's health commissioner, who joined the mayor in supporting the measure on Wednesday.
City Hall claims it has the power to unilaterally implement the ban because it has jurisdiction over local eateries. That same argument was used to enact another element of Bloomberg's anti-obesity campaign, the grading of restaurants' cleanliness, or lack thereof. The beverage industry, which has been battling the city's health department for years over its attacks on soda, has already said the proposed ban unfairly singles out sugary drinks as a cause of obesity. However, the group may not be able to do much about it. Public hearings will be held on the issue, but they're unlikely to change the Board of Health's ruling — or generate much controversy. After all, Bloomberg says of the plan, "New York City is not about wringing your hands; it's about doing something … I think that's what the public wants the mayor to do."
If New Yorkers want to douse the mayor in Gatorade, they'd better move fast. It may be hard to get your hands on a vat of the sugary sports drink come March.