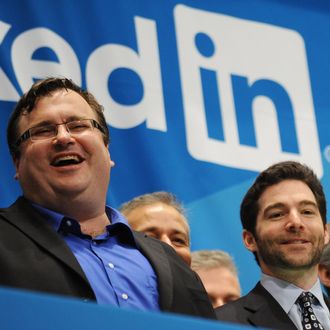 U mad, Zuckerberg?
Photo: STAN HONDA/AFP/Getty
The surprising star of this year's D10 conference, a three-day gathering of tech fetishists organized by AllThingsD, looks to be LinkedIn, the social network only a middle manager could love.
See, LinkedIn is actually very profitable. Its stock is up 47 percent on the year — compare to Facebook's 30 percent, two-week loss, or Groupon's 50 percent slide on the year — with a solid, growing user base and an advertising model that is less of a question mark than its rivals'.
Showing the crowd a funny video probably didn't hurt.
In an interview with Kara Swisher, CEO Jeff Weiner and chairman Reid Hoffman portrayed LinkedIn as less of a gamble than other social media companies, like Facebook and Zynga, whose user base is more prone to jumping to the next hot product.
"LinkedIn is not about passing time; it's about saving time," Weiner said.
LinkedIn's top brass didn't really need to defend the company's performance — every plaid-clad techie at the Silicon Valley conference had just watched Facebook's botched IPO — but they did anyway, talking up the site's mobile push and its recent acquisition of SlideShare.
But D10 attendees were more impressed by the company's parody video, which featured a duck-billed platypus, an erectile-dysfunction ad, and exactly the kind of humor you'd expect from LinkedIn.