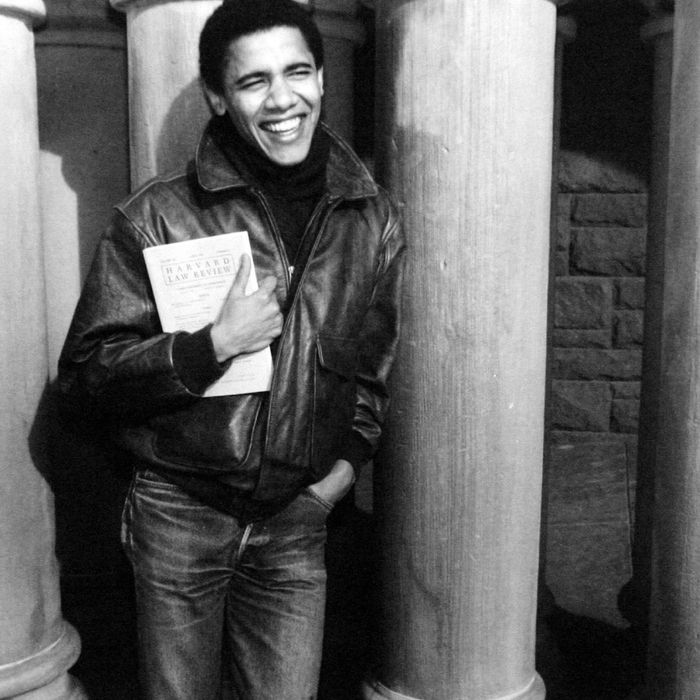 Stop the lies.
Photo: ?Rue des Archives/PVDE
Breitbart.com, as part of its continuing quest to bring you the stories the mainstream media refuses to report on, or else has already reported on but without the requisite paranoid hysteria, has a breathtaking new blockbuster exclusive: Barack Obama's literary agent created a promotional booklet in 1991 that described him as having been "born in Kenya."
The Drudge Report is hyping the Birther Shock angle. Breitbart is careful to tiptoe around it. The story insists that the good editors believe that Obama was born in Hawaii. So why, then, should we care about this story? The article breathlessly explains:
The biography does, however, fit a pattern in which Obama — or the people representing and supporting him — manipulate his public persona.

David Maraniss's forthcoming biography of Obama has reportedly confirmed, for example, that a girlfriend Obama described in Dreams from My Father was, in fact, an amalgam of several separate individuals. 

In addition, Obama and his handlers have a history of redefining his identity when expedient. In March 2008, for example, he famously declared: "I can no more disown [Jeremiah Wright] than I can disown the black community. I can no more disown him than I can my white grandmother."
Soooo … it's (1) a lazy literary agent, (2) a book that openly says it uses composite characters, and (3) a speech on race relations. What exactly is the "pattern" here?
Update: And the cover-up continues:
Miriam Goderich issued the following statement to Political Wire:

"You're undoubtedly aware of the brouhaha stirred up by Breitbart about the erroneous statement in a client list Acton & Dystel published in 1991 (for circulation within the publishing industry only) that Barack Obama was born in Kenya. This was nothing more than a fact checking error by me — an agency assistant at the time. There was never any information given to us by Obama in any of his correspondence or other communications suggesting in any way that he was born in Kenya and not Hawaii.  I hope you can communicate to your readers that this was a simple mistake and nothing more."