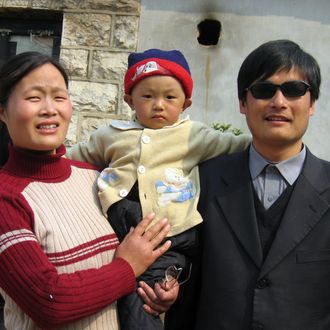 Guangcheng.
Photo: STR/2010 AFP
Blind Chinese activist Chen Guangcheng's fate remains uncertain on Thursday after the self-taught lawyer pleaded by cell phone for his safe passage to the United States. Chen reportedly called into a Capitol Hill hearing from his hospital room in Beijing where he was sent for treatment on Tuesday after the U.S. and China finalized the terms of Chen's release from the U.S. embassy. U.S. officials have been denied access to Chen at the hospital. "I want to come to the U.S. to rest," Chen said over the phone held up by Bob Fu, a Chinese-American rights activist and pastor. "I have not had a rest in ten years. I'm concerned most right now with the safety of my mother and brothers. I really want to know what's going on with them."
The agreement brokered by the State Department in the days leading up to Secretary of State Hillary Clinton's and Treasury Secretary Timothy Geithner's arrival in China for the Strategic Economic Dialogue meetings unraveled almost immediately. Reports later emerged that China officials became furious over U.S."meddling" in the matter. A major Chinese newspaper recently tore into the U.S. for its involvement. Reuters:
"This so-called 'rights defence hero' has been packaged by the United States and Western media and given an eye-catching political label, (and) set up as a representative figure against society and against the system," the paper said of Chen.

"Chen Guangcheng has become a tool and a pawn for American politicians to blacken China," it added.

Chen and his demands for protection, it said, "fully demonstrate just how desperate American politicians are in sparing no effort to cause trouble for Chinese society."
Chen himself suggested at first that he was coerced into the deal, citing threats against his wife and child by Chinese officials that reached him through U.S. officials. But circumstances surrounding Chen's departure from the embassy are in dispute. In any event, Chen feels that he and his family are unsafe in China, and so he wants out.
The Wall Street Journal reported that Assistant Secretary of State Kurt Campbell was negotiating with Chinese officials Thursday. "We need to consult with them further and get a better sense of what they want to do, and together consider their options," said a State Department spokeswoman. The Times notes that if Chen requested asylum in the U.S., he would need a passport and must apply for a visa.
Although Chen reportedly felt wronged by U.S. officials in the wake of his departure from the embassy, he's apparently softened his stance, saying he wasn't bitter towards the embassy. "I feel the work the embassy has done with this business has been not bad," Chen said. "I understand completely that this is something they can't solve on their own."
Meanwhile the matter has become an talking point on the campaign trail, or at least an issue that Mitt Romney will use to hammer the Obama administration. Writes the Times:

Mitt Romney, the presumptive Republican candidate for president, accused the Obama administration of rushing to complete the deal before Mrs. Clinton arrived for the high level meetings and failing "to put in place the kind of verifiable measures that would assure the safety of Mr. Chen and his family."

"If these reports are true," Mr. Romney said as he campaigned in Virginia, "this is a dark day for freedom and it's a day of shame for the Obama administration."
Obama spokesman Jay Carney told reporters that the president wasn't concerned with political back-and-forth on the matter.

"He is focused on the need to advance U.S. interests in our broad-based relationship with China, very important economic, diplomatic relationships with China," Carney said. "He has and will continue to make a priority in that relationship or part of that relationship an open and frank discussion of our concerns about human rights. And that's his focus. It is absolutely in our national interest for us to pursue that kind of broad-based agenda with the Chinese."
And despite all the tension, Chen apparently still has a warm place in his heart for Hillary. Chen reportedly said he wanted to kiss her and accompany on her flight home to the U.S."I hope I can get more help from her," Chen said. "Also, I want to thank her face-to-face."