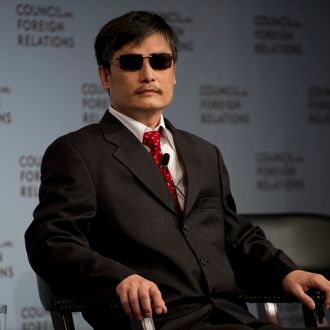 Photo: DON EMMERT/AFP/Getty
Almost two weeks after Chen Guangcheng's hasty departure from China, New York University's newest law student was in high spirits on Thursday morning, relishing one of his first chances to speak freely after years of house arrest in an address to the Council on Foreign Relations. When moderator Jerome Cohen asked the blind activist to keep his answers shorter, Chen replied: "I have so much I want to say."
Though the bulk of questioning was related to Chen's views on China, Cohen did ask Chen what he was most excited to do in New York. "For the past seven years, I haven't had a weekend," he replied. Just a day after Chen and his family touched down at Newark airport, he was spotted playing with his children in the playground of the Washington Square Village complex where NYU has housed him (along with a security detail). Although he broke his foot during his escape from house arrest, on Thursday Chen entered the CFR lecture hall on his own two feet — supported by his wife, as always — and encountered a roomful of movers and shakers applauding him.
Chen plans to start English lessons this coming week; the session was conducted in rapid-fire Mandarin. Most of the Q&A dealt with Chen's op-ed in Tuesday's New York Times, where he declaimed: "The fundamental question the Chinese government must face is lawlessness. China does not lack laws, but the rule of law."
Asked about the Bo Xilai murder and corruption scandal, he laughed awkwardly before noting that in Shandong, his home province, there was once a vice-governor who murdered his mistress of thirteen years with a remote-controlled bomb.
Since his days protesting forced abortions in China, Chen has often singled out local authorities, rather than the central government, as the true source of corruption and lawlessness in China. When asked by one member of the audience what he would do if not allowed to return home, he immediately shot back: "Let's not do assumptions." Instead he applauded the government's "unprecedented" decision allowing him to study abroad, and said he had no desire to turn his sojourn into a permanent exile.
When the hour was up and participants were streaming for the doors, Chen got to his feet, steadied himself, and waited for the room to quiet down. His final and hopeful coda: "As I see it, in this world nothing is impossible."