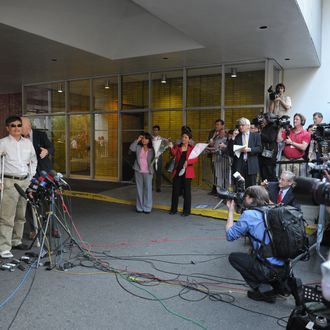 Guangcheng outside the NYU Village apartment complex. (MLADEN ANTONOV/AFP/GettyImages)
Yesterday, blind Chinese legal activist Chen Guangcheng landed with his family at Newark International Airport, the culmination of a weeks-long standoff between himself, the American Embassy where he sought refuge, and the Chinese government, which grudgingly authorized him to "study abroad." Today, Guangcheng finally arrived in Greenwich Village, at the university-owned apartment block where he will be living while he studies law at NYU. Before entering, he held an open-air press conference where he thanked both the American and Chinese governments and made a plea to all fellow liberty-seekers.
I hope everybody works with me to promote justice and fairness in China. [And] I hope to see that they continue to open discourse and earn the respect and trust of the people.
While not necessarily the happy arrival one might've expected — "After all the suffering for years, I don't have those tearful moments anymore," he told the Times — it was further clouded by the risks the rest of his family back in China continue to face. Guangcheng himself expressed such concerns before boarding the flight to the United States, but now that he's here, he might be limited in the help he can provide them. China rarely allows exiled dissidents to return. Just last week, Beijing denied a request by one of the Tiananmen Square student leaders to come home.