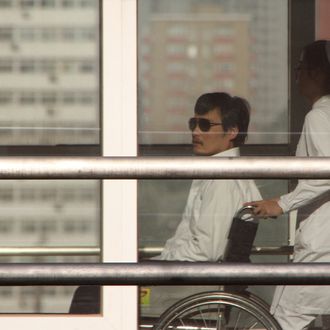 Chen
Photo: Jordan Pouille/AFP/Getty Images
Study abroad is good for certain things: brushing up on a language, spending six months doing absolutely no coursework and "soaking up the culture," and now possibly resolving a high-stakes global diplomatic crisis. Chen Guangcheng, the Chinese dissident whose quest for political asylum looked stalled as recently as last evening, will be allowed to apply to study abroad and thus leave the country, per a message posted on a Chinese government website. Spokesman Liu Weimin said Chen "can apply through normal channels to the relevant departments in accordance with the law, just like any other Chinese citizen," and later added at a press conference that "competent Chinese authorities will handle his application in accordance with the law."
The idea appears to have been a carefully coordinated one: Chen issued a statement, via phone call to a friend just hours before the government's posting, that he wasn't actually seeking asylum but instead wanted merely to study at NYU, and "to go to the United States and rest for several months." It's a solution that allows the Chinese government to both accede to growing international pressure to allow Chen to leave the country and to retain some plausible deniability on the question of whether they in fact crumbled in the face of said pressure. It's not a done deal yet, of course — that application still has to go through — but it looks like an awfully promising compromise.
Update: The State Department says the deal is set:
The Chinese Government stated today that Mr. Chen Guangcheng has the same right to travel abroad as any other citizen of China. Mr. Chen has been offered a fellowship from an American university, where he can be accompanied by his wife and two children.

The Chinese Government has indicated that it will accept Mr. Chen's applications for appropriate travel documents. The United States government expects that the Chinese government will expeditiously process his applications for these documents, and make accommodations for his current medical condition. The United States government would then give visa requests for him and his immediate family priority attention.

This matter has been handled in the spirit of a cooperative U.S.-China partnership.
Previously: Chinese Activist Chen Dials Congress Seeking Asylum in U.S.