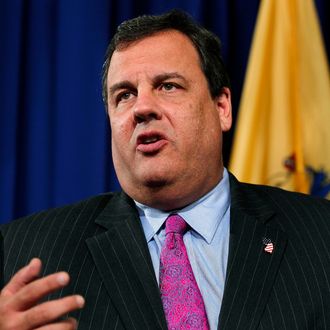 Republican presidential hopeful Mitt Romney (R) and his wife Ann Romney look on as New Jersey Governor Chris Christie speaks during a campaign rally outside a grocery store in Des Moines, Iowa, on December 30, 2011. Romney on Friday ripped President Barack Obama over his annual Hawaii vacation, painting him as out of touch with Americans' economic suffering. Romney was speaking at a rally four days before this heartland state holds its presidential nominating caucus, the first battle in the state-by-state fight to pick a Republican challenger to Obama in the November 2012 elections.
Photo: Jeff Zelevansky/2011 Getty Images
With his New Jersey constituents. Christie's approval rating stands at 56 percent, up from 44 percent just a year ago. Maybe it's all the napping?