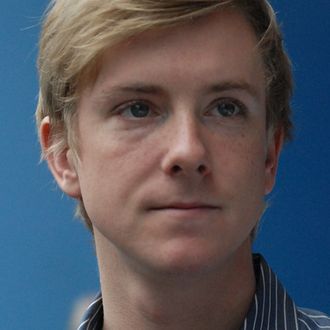 Chris Hughes, the Facebook IPO billionaire and fresh-faced owner of The New Republic, is on a charm offensive. Not only is he remaining a proud U.S. citizen, unlike his suddenly reviled contemporary Eduardo Saverin, but he's doubling down on an American legacy: vanity publishing. After buying the ancient, money-losing magazine, Hughes invited the New York Times into his personal life earlier this month and adorably declared his age as "Twelve times two plus four!" ("I don't get carded anymore!" he bragged to Adweek.) But now he's making business moves, too, announcing the return of TNR editor Franklin Foer, who will ascend from his basement to take the helm at the magazine. They have big plans.
Hughes said his ideal readers are "everyone from Michael Bloomberg to Zadie Smith to Sheryl Sandberg," and told Adweek, "My goal for the publication is to be the magazine New York and D.C. and L.A. people read on the weekends. It's sort of for the crème de la crème."
The boss also announced that he's doubling his editorial staff to 30, hoping to poach "youngish, rising stars who have been writing for publications like The New Yorker and The New York Times Magazine," the Times reported over the weekend. (Keyword: youngish?) He plans to open a New York office, and wants to move The New Republic from competing with "'little magazines' in Washington like The National Review and into a category that includes magazines he sees as more natural competitors, like The New Yorker, the Economist and New York Magazine." Game on.