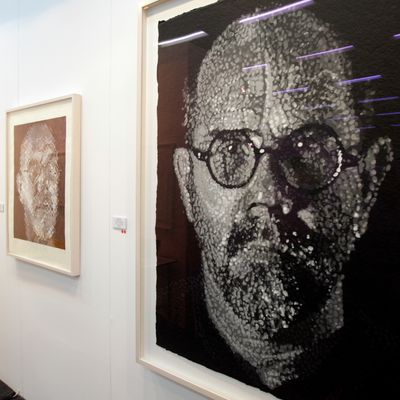 A Close self-portrait.
Photo: Nelson Ching/Bloomberg via Getty Images
Because Upper East Siders don't have enough world-class art in their midst, the MTA is carrying coals more coals to Newcastle: The East 86th Street station on the still-under-years-of-construction Second Avenue line will feature as many as twelve large mosaics by Chuck Close, totaling more than 1,000 square feet and costing a cool million or so. The MTA reached out to Close two years ago, but just worked out all the logistics and made the official announcement late last week. 
As has been previously reported, the new 96th Street station will have work from sculptor Sarah Sze — subject of a lengthy feature in last week's New Yorker — and 63rd Street will feature the work of Jean Shin. The subway's arts council, which has a total of $5 million allocated for the Second Avenue project, still has one more artist to announce, at 72nd Street. We're guessing it won't be an artist who lives, oh, out in far Bushwick. But there's plenty of blank subway-wall real estate at the Jefferson stop for those guys, if they're willing to work for free, so to speak.