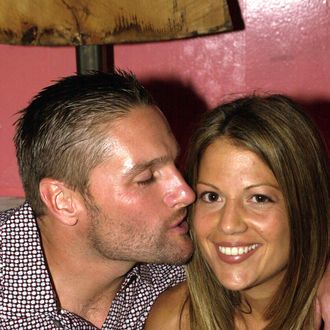 Knoblauch with his then-fiancee in 2002.
Photo: Keith Bedford/WireImage
Ever wondering what former Yankees second baseman Chuck Knoblauch is up to these days? No? Well, regardless, a Brooklyn woman named Erin claims on her Tumblr that she ran into him on the G train yesterday while he was heavily intoxicated and wearing "chef pants":
Yesterday evening Tara and I were riding the G train home from the park and a visibly intoxicated man got onto the car and asked us if we were "Irish or Scottish." at first I thought he was asking about our heritage, but after looking at the bottle he was holding and the way he was sloshing around I think he may have thought we were talking with accents that is how many sheets to the wind he was. So normally when a drunk man talks to me on the subway I am mean as hell so he'll leave me alone but maybe because Tara doesn't live in NYC she hasn't been hardened yet? So she kept engaging him and I am so glad she did because of where this conversation went.

She told him she was visiting from Boston and that is when he said, "Oh yeah, I've played at Fenway a few times." And I scoffed and rolled my eyes because BUDDY you are wearing chef pants on the G train and you're fat and don't even try to hint to me that you're a former major league baseball player. I asked him if he was a Yankee fan or something since he had a negative reaction to Tara being in town from Boston and he said, "Why, do you recognize me?" And I was all "Come on! What's your name then?" So he told us his name was Chuck but he would not give us his last name. He also overheard us talking about our upcoming trip to Minnesota and then he told us he used to live there. At this point we were just kind of egging him on so I asked him if he has ever played professional baseball and he said he couldn't answer that but that he was recently divorced from his wife and "Are you sisters? Want to come uptown with me? I'll just have to change first."

When we got off the train Tara decided to google "baseball minnesota chuck yankee" and I was all, "Can you believe that guy? He tried to hint to us that he was a former major league baseball player!" And that is when this came up on Google.
"It was Chuck Knoblauch," she writes underneath a photo of Knoblauch's 2009 mugshot. "We were being hit on by Chuck Knoblauch on the G train." There's a "trouble getting to first base" joke in here somewhere.
For what it's worth, Louis Gregory — who serves as Knoblauch's social-media adviser of sorts, according to this Patch article — denies that it was Knoblauch on that train. "Chuck is in Houston," he told us in an e-mail after we tried to get in touch with Knoblauch through his personal website. "Not him." When we asked whether Knoblauch was in New York yesterday, he replied, simply, "No."