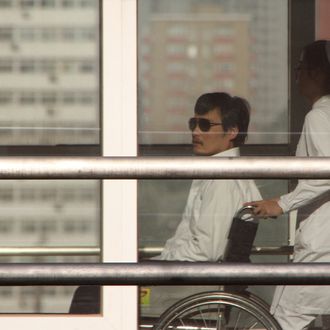 Chen Guangcheng arrives at a hospital.
Photo: Jordan Pouille/AFP/Getty Images
Somehow, a standoff between the United States and China over Chen Guangcheng — the blind human-rights activist who holed up in the U.S. embassy in Beijing after escaping his house arrest last month — turned out okay!
>
Blind human rights lawyer Chen Guangcheng does not want political asylum and will instead stay in China with assurances from the Chinese government that he and his family can live a normal life, a senior U.S. official said Wednesday. …

In an agreement carved out by U.S. and Chinese officials to resolve the situation, Chen will be relocated to a safe environment and allowed to attend a university where he will be free of legal harassment. American diplomats were assured they could check in on Chen to see if he was still being treated fairly.
It sounds too good to be true! It may turn out to be! But for now, Mr. Chen is, in the words of his lawyer, "happy" and "free." And there's one person in particular he wants to thank.
On the way out of the embassy to the hospital, Mrs. Clinton phoned Mr. Chen in what the two American officials said was an emotional conversation since both Mrs. Clinton and Mr. Chen knew of each other but had never met.

At the end of the talk, according to one of the officials, Mr. Chen said to Mrs. Clinton: "I would like to kiss you."