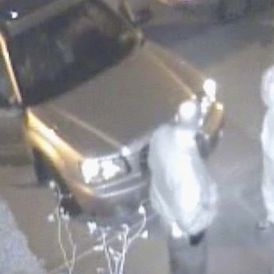 This is how Palacios "jumps out of the way."
A grand jury in Brooklyn has indicted NYPD Officer Diego Palacios on felony charges for lying in a police report and arresting an innocent man. In February, Palacios said that while he was responding to a call concerning John Hockenjos's ongoing feud with his neighbor, Hockenjos rolled into his own driveway at "a high rate of speed," causing Palacios "to jump out of the way" lest he be run over. Curiously, surveillance video shows Palacios standing totally still as Hockenjos slowly rolls to a stop about five feet away from the officer.
Hockenjos wound up spending three nights in jail, but was freed after the video surfaced. Now Palacios has been charged with official misconduct, perjury, and several other kinds of illegal lying. Incredibly, Palacios's lawyer insists that when all the facts come out, he'll "not only be exonerated, he'll be back on the job he loves and cares for so much." Unless those facts involve proof that Hockenjos, his angry neighbor, and a friend impersonating a cop put together a fake surveillance video, things aren't looking good for the officer.