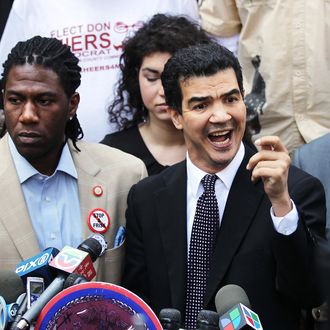 Rodriguez.
Photo: Spencer Platt/Getty Images
David Segal was fired last week as aide to City Councilman Ydanis Rodriguez after the New York Post called him a "terrorist" and "cop-hating con" for attempting to burn down an Army recruitment center back when he was in college. The revelations looked bad and Rodriguez acted quickly, while Segal apologized and accepted his fate without protest. But now Politicker reports that Segal is back at work because letting him go might have violated hiring laws meant to protect people convicted of crimes. (Update: Nope, wait — fired again. See below.) Justice is so wild.
Segal, who said he went after the empty building to protest the Iraq War, did six months in federal prison and claimed he acknowledged the conviction on his job application years later.
Last week, when the story came out, a City Council lawyer told the Post, "It would be a violation of state law for the council or any employer to consider a criminal conviction in making an employment decision unless the conviction directly relates to the position the person has applied for." But later that day the tabloid victoriously proclaimed, "This terrorist firebug is fired!" Time to cue the outrage again.
Update: Capital New York reports that Segal has been re-fired after six hours back on the job! He will speak about his saga Monday and share "a number of facts that haven't been brought to the public eye yet." Politicker adds:
According to sources in Mr. Rodriguez's office, the councilman reversed his decision to re-hire Mr. Segal because he became "spooked" after seeing a Tweet from NY1 contributor Gerson Borrero. The Tweet in question criticized Mr. Rodriguez for giving Mr. Segal his job back.