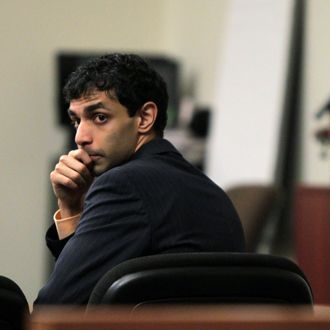 Dharun Ravi, the former Rutgers roommate of the late Tyler Clementi, was sentenced to 30 days in a jail today after being found guilty of invasion of privacy, bias intimidation, evidence tampering, and other counts. Although Clementi's suicide helped catalyze a national conversation about the bullying of gay teens, Ravi was not charged in the death that loomed over his trial. 
Even some gay rights activists, as reported in the Times over the weekend, were wary of making Ravi an example. "That's a function of criminal law, to condemn as general deterrence," explained a gay law professor. "But I think this is a fairly shaky set of facts on which to do it." Ravi faced up to 10 years in prison.
In the time since Clementi jumped from the George Washington Bridge after being surreptitiously taped during a sexual encounter by his roommate, Ravi has been variously depicted as a villain, and a kid who did a really dumb thing. Although the details of the case softened the initial portrayal of him as a hateful monster, his defiance after being found guilty on all counts further complicated the public's perception.
In recommending jail time for Ravi, the prosecutor quoted a text message he sent to a friend the day after Clementi's death, when he had already left campus: "How can I convince my mom to let me go back Friday night and get drunk?" he wrote. Ravi also rejected two plea deals that would have kept him out of jail, a decision he said after the trial that he did not regret. 
In a statement this morning before the sentencing, Clementi's father said Ravi's committed his crimes "because he saw my son as not deserving basic decency or respect" based on his sexuality. Ravi, he said, has shown a "lack of any real remorse."
In addition to his jail term, Ravi will be required to complete 300 hours of community service, attend a counseling program for cyberbullying, and serve a three-year probation sentence. Prosecutor Julia McClure plans to appeal the ruling.