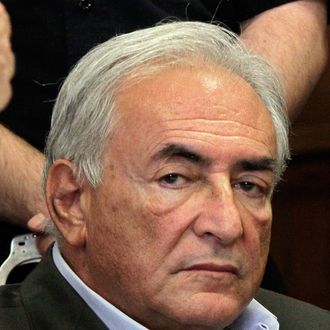 Photo: Pool/2011 Getty Images
Lecherous scandal-magnet Dominique Strauss-Kahn already stands accused of "aggravated procurement in an organized gang," a.k.a. pimping, for his role in a sex ring for powerful men, and now one woman involved says he raped her. According to the French newspaper Libération, a Belgian prostitute told police that Strauss-Kahn performed "certain sexual acts without her consent" at the W hotel in Washington back in December of 2010, just a few months before he was charged with rape in New York.
A crude translation from L'Express mentions sodomy and quotes the woman as saying, "He held my hands. He pulled my hair, it hurt me. … Admittedly, I did not screamed, but I made it clear that I did not want, several times, out loud." She also warns that he may be "capable of being violent" with others.
Another woman involved said, "I did not hear her say no, if she did not want and if she cried I would have heard and I would be taken," but noted that she was "a little busy" at the time.
Prosecutors are reportedly looking into the accusations, which Le Figaro calls "gang rape."