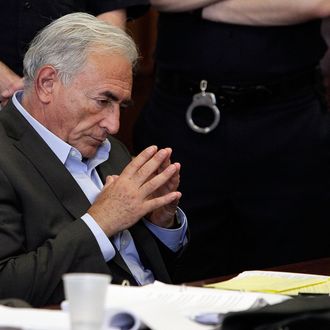 Photo: Pool/2011 Getty Images
It's been just about a year since Dominique Strauss-Kahn was accused of sexually assaulting a housekeeper at New York's Sofitel Hotel. In the time since, he's also come under scrutiny for other accusations: for attempted rape in France, for failing to pay his U.S. taxes, and for ties to a prostitution ring. Would all that have come to light if Nafissatou Diallo, the housekeeper in question, hadn't come forward with her allegations? Who knows! But Strauss-Kahn and his lawyers are implying as much. They're suing the woman for more than $1 million in punitive damages, even as her civil case against him wends its way through the court system, despite his attempt at claiming diplomatic immunity.
Per the AP:
The 18-page document accuses Diallo of malicious prosecution, abuse of process, false imprisonment, defamation and intentional infliction of emotional distress.

"Ms Diallo participated in the commencement and maintenance of a baseless criminal prosecution," the suit said, "and in doing so intended to injure Mr Strauss-Kahn."
The move might be a carefully considered one from a legal-strategy standpoint, but at least in the court of public opinion, the very wealthy DSK asking an immigrant mother for a million bucks probably won't exactly burnish up that tarnished image.