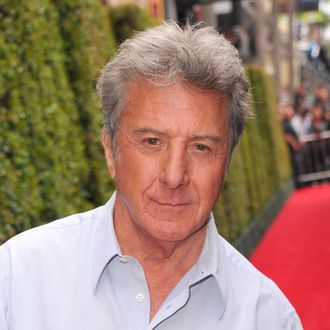 Actor, hero.
Photo: Alberto E. Rodriguez/2011 Getty Images
Move over, Ryan Gosling and Cory Booker. Dustin Hoffman recently helped rescue a jogger who collapsed in London's Hyde Park after the 27-year-old man's heart simply stopped. The Sun reported that Hoffman was out walking nearby when he he saw the victim, Sam Dempster, frothing at the mouth and staggering, eventually collapsing to the ground and smashing his face on the ground.
Hoffman immediately ran to Dempster and rang 999 for help, which indeed is the type of thing most reasonable people would do in the situation. But Hoffman also stayed by Dempster's side for fifteen minutes while paramedics performed CPR and started Dempster's heart again with defibrillator pads.

"I have no memory of what happened," Dempster said. "The paramedics told me I had been saved by Dustin Hoffman. It's unbelievable."
"He seemed impressed we'd got this guy back so quickly," one paramedic said of Hoffman, who has a home in Kensington near the park. "When we were carrying the patient into the ambulance he walked up and said 'Great job, guys.' He really appreciated what had happened."
Kudos to Hoffman. But before you tip your hat too firmly for the legendary actor, consider that the last time a Hollywood star saved a Brit, the rescued woman, who first expressed shock and excitement over the twist of fate, later took to Gawker to condemn everyone for caring about it.