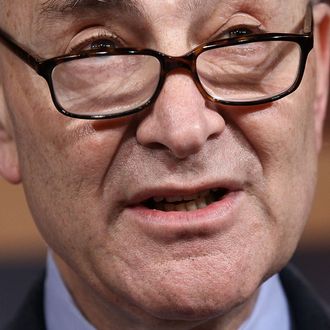 Photo: Win McNamee/Getty Images
Facebook co-founder Eduardo Saverin has gone ahead and given up his U.S. citizenship before the social network's IPO, thereby saving an estimated $67 million in taxes, and personally pissing off our nation's leaders. In direct response to what they call Saverin's "scheme," New York Senator Chuck Schumer and Senator Bob Casey of Pennsylvania are unveiling their "Ex-PATRIOT" Act — "Expatriation Prevention by Abolishing Tax-Related Incentives for Offshore Tenancy." The plan will aim to impose taxes on expatriates anyway, as well as bar those like Saverin from returning.
The Brazilian-born 30-year-old has insisted that his move to Singapore, where there's no capital gains tax, isn't about the estimated $4 billion he'll make when Facebook goes public, but in the New York Times today, he admits, "I'm not a tax expert."
The money is one thing, but so is the "playboy lifestyle in glittering Singapore," the Times reports, including "photos and stories of him embraced by statuesque women and drinking expensive Champagne." That too is overblown, naturally, in his view. "It's a misperception, especially the playboy," Saverin says. "I do have a Bentley. I do go out. I'd rather not go into personal details."
By way of explaining the money part, the "misunderstood" billionaire says he first applied to renounce his citizenship in January of 2011, and that it was finalized in September, but only made public this April. "We complied with all the known laws. There was an exit tax," he notes. "I was born in Brazil, I was an American citizen for about 10 years. I thought of myself as a global citizen."
That's all well and good, but then he has to go and say, "This had nothing to do with taxes." Really, dude? Nothing? Tell it to Chuck.