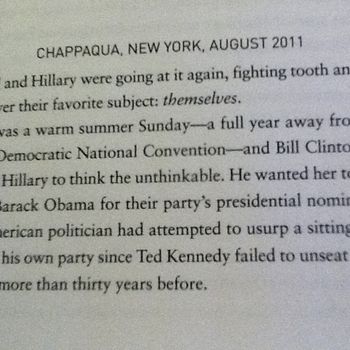 In response to the slew of adoring Obama hagiographies that clog our bookshelves, author Edward Klein decided that the real story of Obama needed to be told, and that he — the man whose previous book alleged that Chelsea Clinton was conceived when Bill Clinton raped Hillary Clinton —  was the unbiased journalist to tell it. The result is his newest work, The Amateur, which was released today. Various salacious passages have already made their way online and into the New York Post, such as the one detailing Bill Clinton's emotional plea for Hillary to challenge Obama in 2012. But we wanted the whole truth about Obama. So today, out of a masochistic sense of curiosity, we bought it. We were reading for all of twenty seconds when we came across this sentence:
No American politician had attempted to usurp a sitting president of his own party since Ted Kennedy failed to unseat Jimmy Carter more than thirty years before.
Pat Buchanan, an American politician, attempted to usurp a sitting president of his own party, George H.W. Bush, in 1992. This is on the first page of the book's prologue — the fifth page overall, if you include the introduction. It's a fairly inconsequential detail in the grand scheme of things. But it's not a promising start.