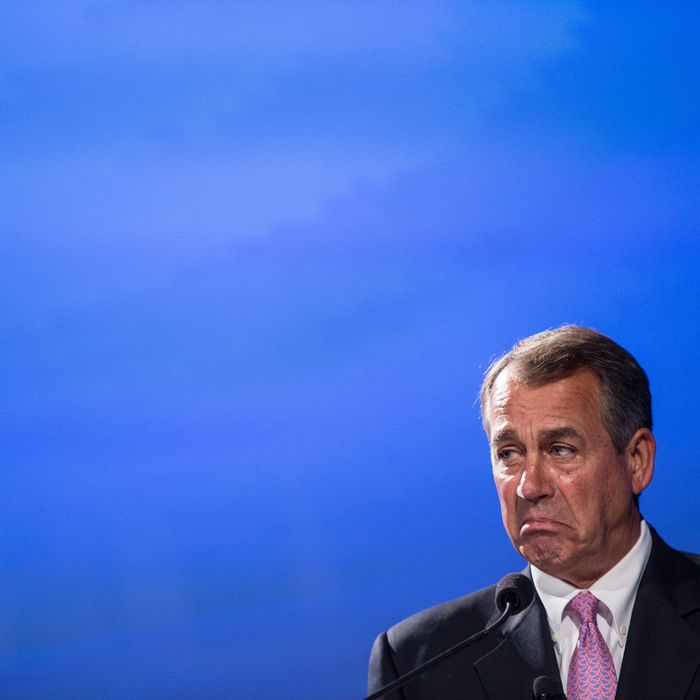 Photo: Brendan Hoffman/2012 Getty Images
With the Supreme Court set to rule on the Affordable Care Act next month, Republicans are focusing more intently on their health care strategy. While the GOP has yet to come up with an alternative to so-called "Obamacare," earlier this week House Republicans laid out their plan for how to proceed after the Supreme Court's ruling. On Wednesday, the GOP leaders' alleged plan leaked: If the law is partially or fully overturned, they intend to preserve some of its most popular features, like requiring insurance companies to cover preexisting conditions and allowing people to stay on their parents' insurance until age 26.

The idea of keeping certain aspects of the Affordable Care Act didn't sit well with many conservatives, as revealed in a private e-mail chain involving many GOP aides and think-tank types. The digital bickering, which was obtained by Politico, got pretty catty. It may be as close as we ever get to reading the GOP's Mean Girls–style burn book.
Shortly after the House Republicans' health care reform strategy was revealed, GOP staffers and conservative activists took to the Google e-mail group called The Repeal Coalition to knock Speaker John Boehner and the rest of the party leadership. Per Politico:
Wesley Denton, an aide to Sen. Jim DeMint (R-S.C.), questioned whether the "GOP now against full repeal?"

"Should we change the name of this [listserv] to 'partialrepealcoalition' or 'someofobamacareisprettygood'?"; Denton wrote to the group.

Brian Worth, a GOP leadership staffer responsible for coordinating with outside groups, shot back that "the House has already passed a full repeal bill."

"Has the Senate passed that bill yet?" Worth asked Denton, in the email chain.

Russ Vought, a former House Republican staffer who is now at Heritage Action for America, bluntly said, "that has absolutely nothing to do with it." The "House GOP is going to cave after winning an election on full repeal … and before winning the next election to finish the job."
"Unreal" he said.
It may not be as juicy as Regina George's thoughts on which of her classmates is a total skank, but the e-mails illustrate why top Republicans are backing off from the plan to leave elements of Obamacare in place. The GOP leadership is already struggling to get legislators, such as Rep. Steve King of Iowa, to fall into line. On Thursday King told C-SPAN that he strongly opposes the rumored plan to keep parts of Obamacare and wants, "all of it pulled out by the roots." Republican leaders also have to contend with outside groups like the Repeal Coalition, which can drum up resistance to the plan among influential conservatives.

Concern from within the party that Boehner has softened his anti-Obamacare stance led him to reiterate on Thursday that he's set on doing away with all of the Affordable Care Act. "We voted to fully repeal the president's healthcare law as one of our first acts as a new House majority, and our plan remains to repeal the law in its entirety," Boehner told reporters. "Anything short of that is unacceptable."

This internal discord puts the GOP in a precarious position. Many in the party have made it known that they won't quietly go along with the plan to keep parts of Obamacare, while others fear a backlash from voters if they enact measures that leave young adults uninsured, force seniors on Medicare to pay more for prescriptions, and allow health care companies to deny coverage for preexisting conditions. It seems Republicans are set on finishing off Obamacare this summer, but if they hope to win the fight over health care reform, they'll need to get on the same page first.