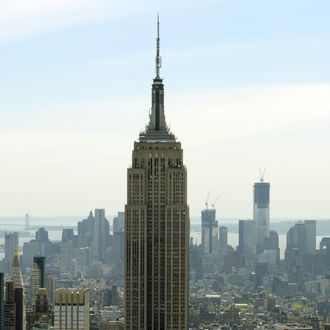 A view of the Empire State Building and One World Trade Center (R-rear) as seen from the Top of the Rock Observation Deck at Rockefeller Center April 30, 2012. The Port Authority of New York and New Jersey held at a press conference today to mark the milestone of One World Trade Center becoming the tallest building in New York. New York's skyline got a new king Tuesday after the still unfinished World Trade Center tower, built to replace the destroyed Twin Towers, crept above the venerable Empire State Building. Workers gently maneuvered a steel column into its base atop the skyscraper's skeletal top, bringing the total height to just beyond the 1,250 feet (381 meters) of the Empire State Building's observation deck.
Photo: Timothy A. Clary//AFP/Getty Images
New York's (second) tallest building is now one of its ecofriendliest, thanks to a half-billion-dollar retrofit that will save tenants an estimated $4.4 million a year on their energy bills. Apart from 6,500 better-insulated windows, the Empire State Building also installed 25,000 sensors for tenants to monitor their energy use more closely.