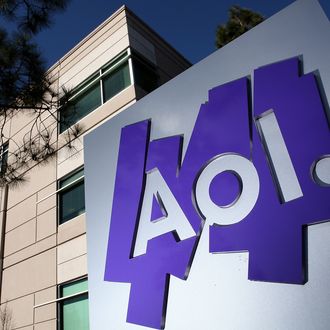 Photo: Justin Sullivan/Getty Images
Eric Simons, a 19-year-old tech entrepreneur in the making, is really about that start-up life, taking the Moutain Dew and ramen cliché to the next level by living full-time at AOL's Palo Alto campus, despite not working for the company. "They had a gym there with showers," Simons explained to CNET. "I'd take a shower after work. I was like, 'I could totally work here … They have food upstairs, they have every drink on tap. This would be a sweet place to live.'" He had a building ID from a program he participated in at the company headquarters, and to everyone around the office, he just looked like a really hard worker.
This was his routine: He'd work until midnight or later, and then fall asleep around 2 a.m. on one of the couches. At 7 a.m. — and no later than 8 a.m. so he'd be safely out of his field bed before anyone else arrived — he'd wake up, go down to the gym for a workout and a shower, and then go back upstairs and scarf a breakfast of cereal and water or Coke. Then he'd work all day, finally waiting until everyone else in the building had gone home before returning to one of his three favored couches.
Simons says he spent about $30 a month before getting caught by security, and while there, he only splurged on fast food, including Boston Market for Thanksgiving dinner. Everything else was the bare minimum: "I only had maybe five to ten T-shirts, a pair of jeans, and a pair of shorts so it all fit in one locker," he explained, and "they had their own laundromat there, so I'd wash my clothes there."
Considering the technology business has been a bit tricky for AOL this past decade or so, perhaps they could pivot toward hospitality?