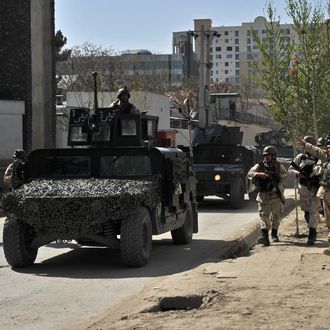 Photo: MASSOUD HOSSAINI/2012 AFP
A car bomb exploded in Kabul Wednesday morning (local time) only about two hours after President Obama left the region aboard Air Force One, after giving a live speech concerning U.S.-Afghanistan relations. Multiple sources have reported that the blast occurred in Green Village in the eastern part of the capital near several U.S. military bases and compounds where westerners are housed. Sporadic gunfire followed. Witnesses heard a second explosion in the same general area roughly 90 minutes after the first, or around 8 a.m. local time.

The Afghan Taliban has claimed credit for the car bomb, however Reuters reports that U.S. and Afghan officials believe the militant, Al Qaeda–linked Haqqani network is responsible. "One of our mujahideen detonated his car in front of a military base," Taliban spokesman Zabihullah Mujahid told Reuters in a phone call. "Other mujahideen are inside the base fighting. There are very heavy casualties for the enemy."

Interior Ministry spokesman Sediq Sediqi has said that the suicide bomb killed four civilians inside a station wagon, a passerby, and a security guard at a nearby building.

This post has been updated throughout.