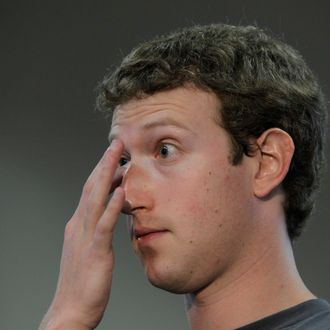 Facebook shares continued their slide on Tuesday, dropping as much as 8 percent before 10 a.m. and bringing shares to a three-day low of $31.46 before rebounding slightly. Personal profiles are not yet in danger of being deleted to save money, so most of the world remains unperturbed, but those involved in the dollars and cents are freaking out and finger-pointing. It's either the fault of lead IPO underwriter Morgan Stanley, the NASDAQ itself, or the company's uncertain financial prospects.
Reuters dropped a bombshell this morning: Morgan Stanley, which won a Wall Street knife fight to win the role of lead IPO underwriter, was cutting its estimates for Facebook's future revenues even as it was pitching the stock to major investors. "I've never seen that before in 10 years," said one mutual fund source who received the bad news. "That deceleration freaked a lot of people out," said one investor. 
Others claim that the Wall Street underwriters, which also included JPMorgan and Goldman Sachs, "overplayed the enthusiasm and probably just misread the atmosphere of the marketplace," one moneyman told Bloomberg. "It was like the gang that couldn't shoot straight," another said. "The underwriters mis-estimated what actual demand was, and there was pure execution failure coming out of the Nasdaq."
"Blame the Nasdaq" has been the preferred finger-pointing strategy of Morgan Stanley and Facebook. But the exchange's CEO claims the delays on Friday "had no apparent impact on the stock price." (The SEC is looking into it.)
Or maybe it's a question of the company itself? Even after the last few days of declines, the stock is valued very highly compared to its expected future earnings — a ratio that is vastly larger than at peers like Google. And then there are the more dire prognostications. "Facebook is not only on course to go bust, but will take the rest of the ad-supported Web with it," Michael Wolff writes at the Technology Review. He blames the company's dependence on display advertising, which is responsible for a very large portion of its revenue: "Absent an earth-shaking idea, Facebook will look forward to slowing or declining growth in a tapped-out market, and ever-falling ad rates, both on the Web and (especially) in mobile. Facebook isn't Google; it's Yahoo or AOL." 
At the Big Picture, Barry Ritholtz slams every step of the company's public offering as "a series of bad decisions made by Facebook's executives going back many years. The insiders got greedy, too clever by half, in how they used secondary markets. They picked a bad banker and an awful exchange. The stock broke syndicate on Monday morning, and I would not be surprised to see it eventually cut in half from the way-too-high offering price."
Could it get any worse? Well, Facebook is also working on tweaks to its new Timeline feature. Falling stock prices or not, the quickest way to get the site's actual users to join Wall Streeters in panicking is probably still a redesign.