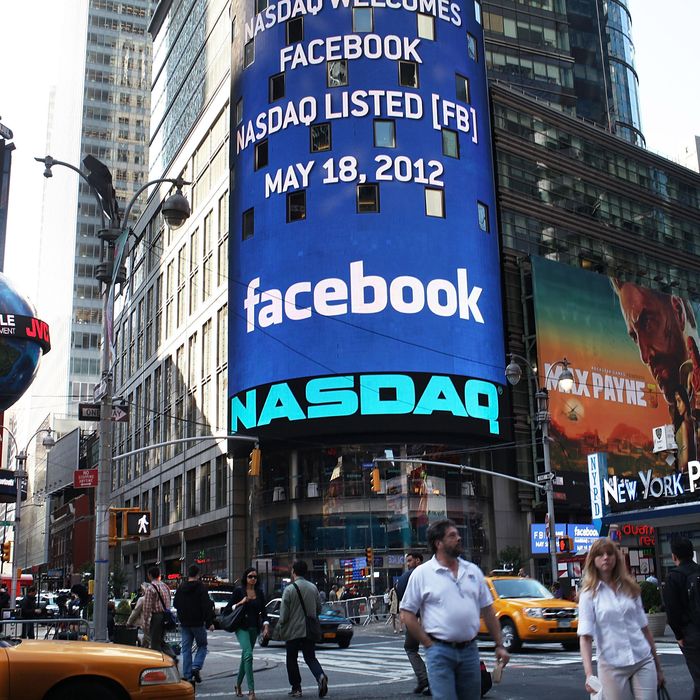 Photo: Spencer Platt/Getty Images
"Mark Zuckerberg listed a company on NASDAQ." As soon as the Facebook founder rang the bell to begin the day's trading, this status message appeared on his profile automatically, courtesy of a clever hack from some Facebook engineers. And just like that, it became official: a $16 billion initial public offering, the third-largest in U.S. history and by far the biggest and most hyped tech IPO ever. With 421 million shares available at a starting price of $38 each, the IPO valued the company at $104 billion — Zuckerberg's stake alone is worth around $20 billion. And yet after a day of trading, the stock made virtually no gains, closing up just 23 cents.
Things got off to a late start. Scheduled to get going at exactly 11 a.m., the time was repeatedly pushed back a few minutes at a time. As of 11:20 a.m., NASDAQ announced it was experiencing a delay in getting things going, likely because of retail demand. One would think they would have prepared for this. Finally, as the European markets closed at 11:30 a.m., Facebook shares officially opened at $42.05, went immediately up to $42.99 according to Dow Jones, with 82 million shares moved in the first 30 seconds, before falling back to about $40. Throughout the rest of the day, the price hovered around the starting price, thanks in large part to the support of the IPO's underwriters, who fought to keep it from dipping under. At 4 p.m., the finally price was $38.23 — essentially flat.
For Zuckerberg & Co., it wasn't exactly an inspiring launch, Steven Russolillo writes for the Journal: "This debut looks a little disappointing at the onset. Underwriters typically want a 10 percent to 20 percent rise during a trading debut. Anything above or below and people question whether the IPO was priced correctly." After the very brief rise, early gains were lost by before noon, leaving many to call the day "a dud."
Social media stocks also dipped initially as Facebook shares began trading, with Groupon down 6 percent, Pandora down 5 percent, Yelp down 3.2 percent, LinkedIn down 2.6 percent, and Facebook partner Zynga falling worst all of all, dropping 13 percent before shares were halted.
NASDAQ, the Dow, and S&P were all down for the day, as were the banks behind the Facebook IPO, including lead underwriter Morgan Stanley. Now it's all about spin, with one analyst tweeting, "What's a good IPO? Stable price. Big rise = money that should have been raised but wasn't. Big drop = pain to early backers." At the Journal, Paul Vigna writes, "People are going to struggle with what adjective to attach to this first day of trading. Flop. Dud. Underwhelming. It wasn't a train wreck, exactly. But nobody's going to call it a smashing success, that's for sure."
Before it became about fluctuating dollars and cents, former U.S. citizen and Facebook co-founder Eduardo Saverin took to the social network he helped create to applaud Zuckerberg, but couldn't be bothered to spell his name correctly: "Congrats to everyone involved in the project from day one till today, and I especially wanted to congratulate Mark Zukerberg on keeping tremendous stead-fast focus, however hard that was, on making the world a more open and connected place."
The doubters were out there too. "Even for those individuals with above-average net worth, purchasing shares at an IPO, especially a 'hot' one that has been widely hyped, is rarely a good idea," one finance professor told Mashable. There was also the unavoidable talk of a tech bubble — remember Pets.com? (On another note, Facebook is being sued for $15 billion for allegedly tracking users, Bloomberg reports.)
Elsewhere, the web went predictably wild with speculation, interactive charts, and colorful stories from every angle, including this relic about visiting Zuckerberg's bungalow in 2004:
There is a pool in Zuck's backyard, but the lights have burnt out from too many pool parties. There are tiki torches, burnt out for the same reason. I look at the empty bag of In-N-Out next to the Cape Cod salt and vinegar chips next to the Corona next to the pizza box next to cases of blockbuster movies (Zoolander, Happy Gilmore) next to Zuckerburg's laptop next to Zuck and contemplate the lifestyle we have enabled them to lead. Our overwhelming desires, our collective insecurities, our wanting Thefacebook to be the all-encompassing collegiate phenomenon that it has become landed in between piles of chips and beer in a Palo Alto bungalow.
You've come a long way, baby. Today, not so much.
Related From New York: The Maturation of the Billionaire Boy-Man
No, Facebook Has Not Already Peaked
The Zuckerbergs of Dobbs Ferry
Silicon Valley Is Allergic to Slicked-Back Hair
Charting the Lesser-Known Facebook Investors
Six Ways Zuckerberg Unleashes His Alpha Geek
This post has been updated throughout.