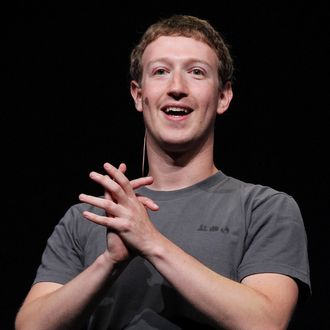 Mark Zuckerberg isn't allowed to discuss Facebook's IPO publicly.
Photo: Justin Sullivan/Getty Images
An IPO as massive as Facebook's — expected to raise over $10 billion and value the social media company at around $100 billion — means lots of rich, rich investors want to douse the hype and lower the price while lots of rich, rich bankers (working for Facebook) want to hype the hype and push the stock price every higher. Add business reporters and you've got yourself an IPO spin war.
On the investor side of things, there's Bloomberg, which reported yesterday that demand for the IPO was "weaker-than-forecast." The news service says this is mostly because of Facebook's Wednesday announcement that advertising growth is not keeping up with users' mobile activity — in fact, Zuckerberg has said one of his top priorities will be improving Facebook's mobile app. What's more, 79 percent of 1,253 investors recently polled by Bloomberg believed Facebook didn't deserve  its top-end valuation of $96 billion.
On the Facebook and bank side, there's Reuters, which announced the IPO is already oversubscribed, adding that some existing shareholders are knocking at the underwriters' doors looking for more. The company could even raise its offering price, Reuters claimed, citing unnamed analysts. Soon after, CNBC tweeted that its own sources were saying the IPO was "many many" times oversubscribed.
Both can't be wholly accurate, and TechCrunch's Michael Arrington thinks he knows which side is actually telling the truth.
My sources say that the road show is a bit slow and investors don't like some of what they're seeing. In particular, the massive move users seem to be making to mobile.

That doesn't mean Facebook's IPO is failing. Not even close. But from what I can tell right now the Bloomberg story is correct, and the Reuters story isn't.
Furthermore, as Arrington sees it, the Bloomberg piece came out first and that "team Facebook reacted, choosing Reuters to voice the counter message." His main evidence: that Bloomberg named its sources and Reuters didn't, also some seemingly faulty time stamps.
Per Arrington's post, the Bloomberg piece came out at 4:53 a.m. Friday morning and the Reuters piece exactly an hour later. Except that the two stories' respective time stamps show the Reuters piece published at 9:52 p.m. on Thursday and Bloomberg's published at 7:53 a.m. on Friday. So unless some time stamp tinkering took place, we're confused.
Regardless, Arrington is right that Facebook's IPO is a long way from failing, just like Paul Ford, writing in last week's New York, is likely right that Facebook hasn't peaked quite yet. The company may be overvalued by investors right now, but its days of innovating are not yet behind it. At least not while Mark Zuckerberg remains the world's top Facebooker.