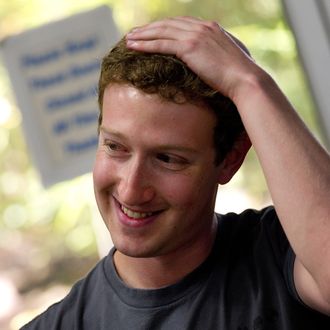 Photo: David Paul Morris/Bloomberg via Getty Images
The Facebook IPO blowup continues today in Manhattan court, where a lawsuit has been filed by shareholders accusing Mark Zuckerberg and his financial underwriters of hiding bad news about the company before its public offering. The suit claims that lead underwriter Morgan Stanley, along with others including JPMorgan and Goldman Sachs, declined to tell investors about "a severe and pronounced reduction" in revenue forecasts. "The value of Facebook common stock has declined substantially and plaintiffs and the class have sustained damages as a result," according to shareholders. Reuters reported yesterday that the underwriters were revising their growth expectations during Facebook's investor roadshow, but apparently not everyone got the memo.
Henry Blodget, who wrote the New York cover story about Zuckerberg, reports at Business Insider that "the company basically pre-announced that its second quarter would fall short of analysts' estimates," but only the underwriters knew, and they were careful about which potential investors they told. "[A]t best, this 'selective disclosure' of the estimate cut is grossly unfair to investors who bought Facebook stock on the IPO (or at any time since) and didn't know about it," he writes. "At worst, it's a violation of securities laws."
Today's complaint, which could potentially be a class-action suit, says that investors have lost $2.5 billion so far as Facebook stock sank more than 18 percent in its first two days on the NASDAQ. The lawsuit adds to the myriad headaches that have stemmed from the disastrous IPO, also including an SEC probe, a lawsuit against NASDAQ, and more general hand-wringing about Facebook's future as a business.
On the upside, Facebook shares are up a teeny bit this morning. That $38 starting price, though, is still a distant dream.