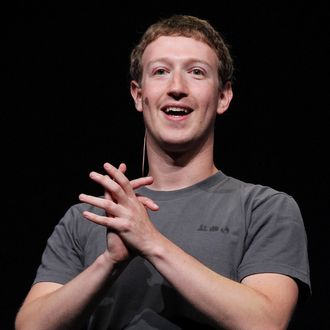 Game on.
Photo: Justin Sullivan/Getty Images
Facebook IPO-palooza will officially begin at about 11 a.m. on Friday when 421 million shares priced at $38 will be sold on the NASDAQ exchange. After months of speculation and skepticism about demand for the social network's stock and the company's growth prospects, the IPO ultimately valued Facebook at $104 billion, reports Dealbook. CEO Mark Zuckerberg will ring the opening bell for the NASDAQ from Facebook's headquarters in California — because Zuckerberg doesn't travel to ring bells.
Facebook is set to raise roughly $16 billion which will make the company's IPO the third-largest ever and the biggest for a tech company. Only Visa and General motors raised more in their IPOs, bringing in $19.7 billion and $18.1 billion, respectively.
On Friday, the stock could see double-digit gains based on buzz, if previous tech IPOs are any indication. But first they party, Facebook-style:
The social network planned to celebrate its 31st "hackathon" on Thursday night, with engineers coding into the wee hours, employees amped up on Red Bull and workers-turned-D.J.'s playing their tunes, Facebook said. Part work, part fun, the Facebook tradition, which will take place in an area of the company's campus known as Hacker Square, encourages employees to do what they do best: brainstorm, design and create.
The day also marks a little moment of celebration for the recently embattled JPMorgan, which is managing the IPO along with Goldman Sachs and lead underwriter Morgan Stanley. The bankers will split about $176 million, or 1.1 percent of the money Facebook is raising, for their services, which they've offered at a discounted price. "This is just a once-in-10-years event, so they figure they've got to be attached to it, and they're going to glow in the association with being a part of it," one investment banker explained to Bloomberg. "They're going to get higher fees and more business in the future because of it."
To say that investors will be excited on Friday would be a gross understatement. "It will be bananas," Greencrest Capital analyst Max Wolff told Reuters. "This is all about the future, so it really is a lottery ticket."
This post has been updated throughout.