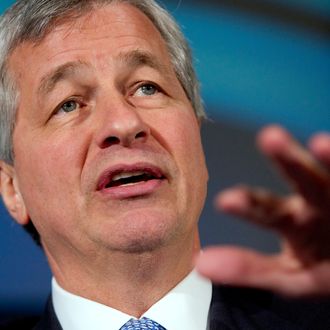 Welcome to the party, FBI.
Photo: Andrew Harrer/Bloomberg via Getty Images
As if more pressure couldn't mount on JPMorgan Chase in the wake of its $2 billion (and growing) trading loss, the FBI has decided to launch its own inquiry into the debacle. Led by the bureau's New York office, the FBI will examine JPMorgan's accounting practices and public disclosures about the trades that prompted the loss, the Times reports. "The FBI looks for evidence of crimes and goes after people who it alleges are criminals," Erik Gordon, a professor in the law and business schools at the University of Michigan told Reuters. "They want to send people to jail. The SEC pursues all sorts of wrongdoing, imposes fines and is half as scary as the FBI."
Indeed the FBI will be headed where the Justice Department, the SEC, President Obama, Timothy Geithner, Senator Bob Corker (R-Tennessee), Representative Michael Capuano (D-Massaschusetts), and many more are going: after the bank and for Wall Street reform. The bureau's investigation is still in its infancy. None of the FBI, the Justice Department, or the SEC has yet made any specific accusations of malfeasance.

At the bank's annual shareholders meeting on Tuesday, a contrite Jamie Dimon repeated his remorse over the blunder, adding that the bank would pursue more disciplinary action against the persons responsible. "We will do the right thing," Dimon said after the meeting. "That may well include clawbacks."
The shareholders stood by their CEO at the meeting, voting overwhelmingly to approve his $23 million compensation package. But with the FBI entering the fold, joining all the rest, Dimon and JPMorgan will remain likely remain under intense scrutiny for a while.
"I don't care how many [lobbyists] you have," a former JPMorgan official told Politico. "When you have a situation like this, it's going to put you on the defense and it's going to be a while before they can get back on offense. This is going to be a significant distraction for them for a long time."