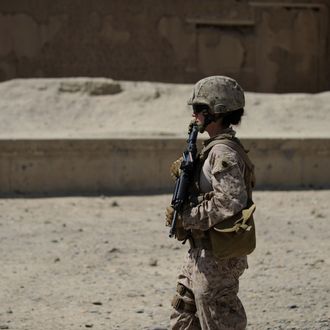 Gunnery Sargeant Michelle Mollen of the 2nd Battalion, 1st Marine Regiment patrols in Garmser, Afghanistan on March 12, 2011.
Photo: ADEK BERRY
U.S. Army reservists Jane Baldwin and Ellen Haring filed a lawsuit against Defense Secretary Leon Panetta and Army Secretary John McHugh on Wednesday that seeks to end the U.S. military's ban on women serving in combat roles. The suit says that the ban violates women's Fifth Amendment right to equal protection and "restricts their current and future earnings, their potential for promotion and advancement, and their future retirement benefits."
The Pentagon refused to comment directly on the lawsuit, but spokesman George Little said that Panetta is, "strongly committed to examining the expansion of roles for women in the U.S. military, as evidenced by the recent step of opening up thousands of more assignments to women." In February the Pentagon announced that it would open more than 14,000 new positions to women, but many complained that it was only a minor step forward for women serving in the military.
Owing to the high demand for troops in the last decade, many women were already serving in these roles as temporary "attachments" to battalions. The reservists attacked this policy in their suit, calling the restrictions on women in combat "arbitrary and irrational," and adding, "There is no practical difference, in terms of the work that servicewomen do, between 'assigning' women to a ground combat unit and 'attaching' women to a ground combat unit."