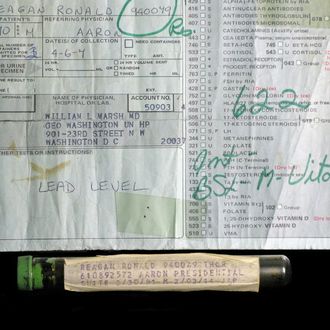 After Ronald Reagan was shot in 1981 by crazed Jodie Foster fan John Hinckley Jr., a woman working in the lab that conducted tests for George Washington University Hospital decided to keep a blood-crusted vial bearing Reagan's name as a gory memento of the time the president almost died. This week, someone claiming to be the late lab worker's child put the vial up for sale through the British company PFC Auctions, but the Ronald Reagan Presidential Foundation is trying to prevent one lucky person from completing their collection of dead presidents' blood samples.
"If indeed this story is true, it's a craven act and we will use every legal means to stop its sale or purchase," says John Heubusch, executive director of the Ronald Reagan Presidential Foundation, in a statement. (It seems the public disagrees. The auction ends on Thursday and the bidding is already up to $9,922.27.) Heubusch adds that he's contacted officials at George Washington University Hospital and been assured that they're investigating "how something like this could possibly happen." 

The anonymous seller actually provides a fairly detailed explanation of how his or her mother obtained this piece of Americana. Supposedly she asked the lab's director if she could take the vial and he happily handed over the bloody tube. The seller also claims to have contacted the Reagan National Library several months ago with an offer to sell the vial. A federal agent called back and said the National Archives, the FBI, and the Secret Service weren't interested in Reagan's medical paraphernalia, but suggested that his family might want it. The seller explains:
I told him that I didn't think that was something that I was going to consider, since I had served under Pres. Reagan when he was my Commander in Chief when I was in the ARMY from '87-'91 and that I was a real fan of Reaganomics and felt that Pres. Reagan himself would rather see me sell it rather than donating it.