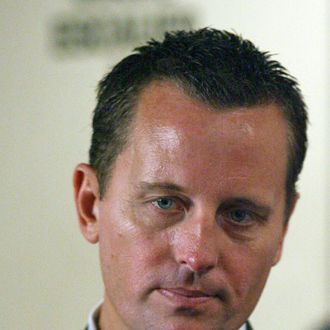 Probably should have thought of this before you decided to be gay.
Photo: Stephen Hilger/Bloomberg via Getty Images
When Mitt Romney hired Richard Grenell as a foreign-policy spokesman, it was hailed as a new era for gays, who could now openly serve a Republican candidate (as long as they did not use their position to advocate for gay rights). But a handful of social conservatives waxed hysteric over an openly gay man serving even in a post unrelated to social issues, and Grenell has resigned.
As gay Republicans go, Grenell was a Republicans' gay Republican. He liked to tweet out vicious misogynistic comments about Democratic women. One reporter called him "the most deceptive press person I've ever dealt with," and Ari Fleischer called him "a consummate professional," which essentially confirms the charge. All this is to say, if Richard Grenell couldn't muster the tribal solidarity needed to maintain the trust of Republican conservatives, then presumably no gay person can, at least yet.
The imbroglio also shows that Romney remains beholden to his base — that he is, or feels, unable to weather even modest levels of heat over what was a purely policy-free concession to the center. Romney just isn't going to be able to anger any portion of the Republican coalition.